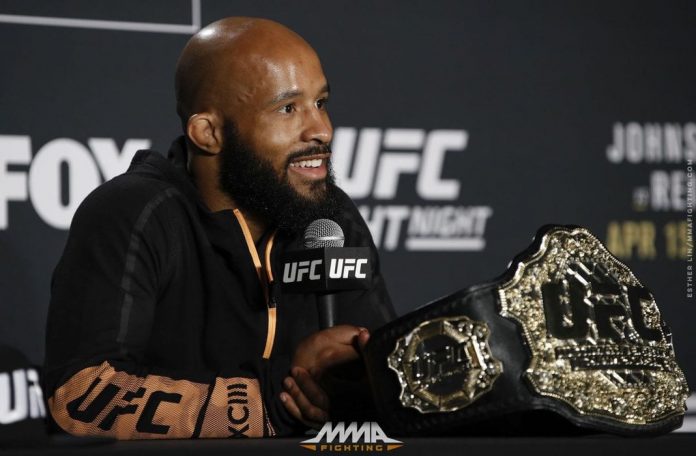 2017 was another monster year for the UFC and Dana White. There was talk of a lack of star-power and without Conor stepping foot inside an octagon in 2017, the UFC showed everyone they will continue to grow and flourish. With 2017 coming to an end it's time for the yearly awards…according to me.
FIGHTER OF THE YEAR : Demetrious Johnson
This was the hardest award to give this year because there was no clear cut decision. There were three or four fighters worthy of the award, but I'm choosing flyweight champion Demetrious Johnson as 2017 UFC Fighter of the Year. It wasn't anything new for Mighty Mouse this year, just more winning. The only difference was that he broke the all-time title defense record. In the year that he became arguably the greatest MMA fighter of all-time, it's only right that he gets anointed fighter of the year. He not only broke the record, but did it in such spectacular fashion that he has a great chance of landing on this list twice. 2018 should be an even bigger year for the flyweight champion. Now, as the GOAT, he's going to be getting bigger fights, including a possible champion vs champion super-fight with bantamweight champion TJ Dillashaw.
Honorable Mentions: Robert Whittaker, Max Holloway, Volkan Ozdemir
FIGHT OF THE YEAR: Eddie Alvarez vs. Justin Gaethje
One of the greatest fights I have ever seen hands down. Eddie Alvarez and Justin Gaethje told everyone their fight would be a fight for the most violent man in the lightweight division. Oh man, did they deliver. As violent a fight we've seen in some time. An absolute blood bath. Eddie Alvarez' face was so swollen that you knew something was broken, but nothing stopped him. Gaethje brought it, as he always does, non-stop pressure with crippling leg kicks. Violence was promised and violence was exactly what we got.
Gaethje seemed as if he had the fight won on the scorecards in the last round where some fighters may play it safe. Playing it safe is not in Justin Gaethje's vocabulary. He kept coming forward, because no matter how much damage Eddie Alvarez has taken, he's always dangerous. Eddie showed his huge heart with, as he could barely open an eye. Alvarez landed a knee in the final couple minutes of the fight that knocked Justin Gaethje out. Gaethje was handed his first loss. My pick for 2017 UFC Fight Of The Year and one of the greatest fights of all-time.
Honorable Mention: Michael Johnson vs. Justin Gaethje, Yancy Medeíros vs. Alex Oliviera
UPSET OF THE YEAR: Rose Namajunas over Joanna Champion
The upset of the year in 2017 was one of the biggest upsets of all-time, and it was when Rose Namajunas beat the unbeatable Joanna Jędrzejczyk. Joanna Champion has dominated the women's strawweight division for years with an undefeated record. Rose got her chance and made the most of it. She came out with no fear of the champion and was pushing forward from the bell, throwing over the top hooks which immediately found success. She hounded the champion until dropping her and finishing her in furious fashion. Namajunas is on the brink of becoming a huge star in the UFC and has only begun to scratch the surface of her future.
Honorable Mention: Darren Till over Donald Cerrone.
KNOCKOUT OF THE YEAR: Francis Ngannou vs. Alistair Overeem
This is not the popular choice, but for me, it was a no-brainer. Francis Ngannou knocking out Overeem got the biggest reaction out of me all year. I thought Alistair may have died. It was a left hand from hell that almost sent Alistair Overeem into another dimension. The shot was one of the most furious and ferocious knockouts from one of the biggest scariest men I've ever seen inside the octagon. It wasn't a spectacular knockout coming from a knee or an elbow, but it was straight up scary. That's the type of knockout that makes people who think UFC is too violent cover their eyes. Prepare yourself to be in front of a television in 2018 whenever Ngannou steps in, because more knockouts will be coming.
Honorable Mention: Mike Perry vs Jake Ellenberger, Edson Barboza vs Beniel Dariush
SUBMISSION OF THE YEAR: Demtrious Johnson
Another award for the great flyweight champion Demetrious Johnson. Although, this one was as guaranteed as it gets. It is hands down the greatest submission I've ever seen in MMA. The flying armbar is something you would try to do in the UFC video game, and even that is impossible to get. Leave it up the GOAT to pull it off in the biggest fight if his life. In the middle of a back suplex on Ray Borg, he transitioned himself to Borg's side and locked in an armbar before they hit the ground. When they landed, Johnson tightened it up and got the finish. Forget submission, it was one of the greatest finishes anyone has ever seen in the UFC.
Honorable Mention: Nothing worthy to mention that can compete with a flying armbar
BREAKTHROUGH FIGHTER OF THE YEAR: Volkan Ozdemir
Volkan Ozdemir made his UFC debut in February, and after three fights he fought his way to a light heavyweight title shot. He will be fighting Daniel Cormier on January 20 for the light-heavyweight belt in the first PPV of 2018. Volkan beat the very tough OSP by split-decision in his opening bout. He followed that up with two consecutive knockouts within the first minute of both fights. Knocking out the #3 ranked light-heavyweight Jimi Manuwa in just 42 seconds in his last bout which landed him his title shot. With the division at maybe its weakest point in years without Jon Jones and Anthony Johnson, they need to push the good fighters they do have in the 205-lb division. Volkan will be testing DC's chin big time next month. Let's see if Volkan can mix everything up and be UFC champion.
Honorble Mention: Cynthia Calvillo.