With the departure of Neymar and Real Madrid's incredible 2016-2017 season, people were expecting Barcelona to simply deteriorate and fall apart this season. However, we find ourselves in December and Barcelona is (somehow) leading the league with Real Madrid trailing by eight points and leading their Champions League group. Now, to the untrained eye, that would indicate that Barcelona are having a tremendous bounce-back season. But for those of us who truly watch and the study the game as a whole and not just for the results we can clearly see that this is not the case. Barcelona have numerous flaws and problems that have been eclipsed by their wins. Things aren't always as good as they seem and Barcelona's season is a clear example of that.
Where Are The Goals Going To Come From?
Messi started the season firing at all cylinders. Nine goals in his first six league games was an impressive feat for any human. Unfortunately, he's scored just four goals in his last nine games for La Liga. In Europe, he's managed just one goal in his last four games as Barcelona have scored just seven goals in five games. Normally, Messi's lack of goals would not be a problem due to the fact that he's the type of player that's more than capable of influencing the game at any moment whether or not he scores or assists. The problem this year is the fact that the team does not have another consistent scorer. Luis Suarez has scored just six goals in 11 games while proving two assists. A striker who can also play the role of provider has struggled to adapt to his new wider position resulting in the lack of involvement at times.
Following Messi and Suarez, it's none other than Paulinho (lol) who ranks third with four goals. No other player other than Messi has scored more than five goals this season which has to be alarming if you're Ernesto Valverde. We've learned from the past that a Barcelona team that depends on just Messi to provide the goals cannot compete in Europe. Former Spain national team striker turned benchwarmer Paco Alcacer has proven that he can put the ball in the back of the net when given a chance. The former Valencia striker has two goals and one assist in his three matches yet Valverde practically refuses to give him more minutes.
Dembele Is Not The Answer
The return of Dembele will not change Barcelona's offensive problems as much as people like to think. Dembele is an assist-minded winger who isn't necessarily known for his goal scoring abilities. The only problem will be that Dembele will have no one to finish his assists. Sure Messi will put away those chances but Dembele needs a predator "9" inside the box which Messi is not. With Valverde's 4-4-2, Suarez tends to play more on the left side and is not always in a good position inside the box to finish the chances. So who will finish Dembele's passes?
His return will also mean that Gerard Deulofeu will have his minutes reduced and Aleix Vidal will go even lower in the pecking order. Deulofeu has played his role almost to perfection so far this season. Sure his goals haven't been coming in but he opens the field giving Messi more room in the middle. Since the departure of Dani Alves, Barcelona's right flank lacked a winger or outside back that could stretch the defenses out but could also attack 1v1 and shoot himself. Deulofeu is adapting to Barcelona which can take some time. Of course his growth will be halted when Dembele returns. Dembele is much better on the left flank but in his first few games, it became apparent that Valverde prefered on the right.
Defense Dependency
Marc-Andre Ter Stegen is having the best season of his career so far. He's conceded just six goals in 18 games so far this season with a total of eight clean sheets. A brick wall in the back who has miraculously helped Barcelona win many games this season.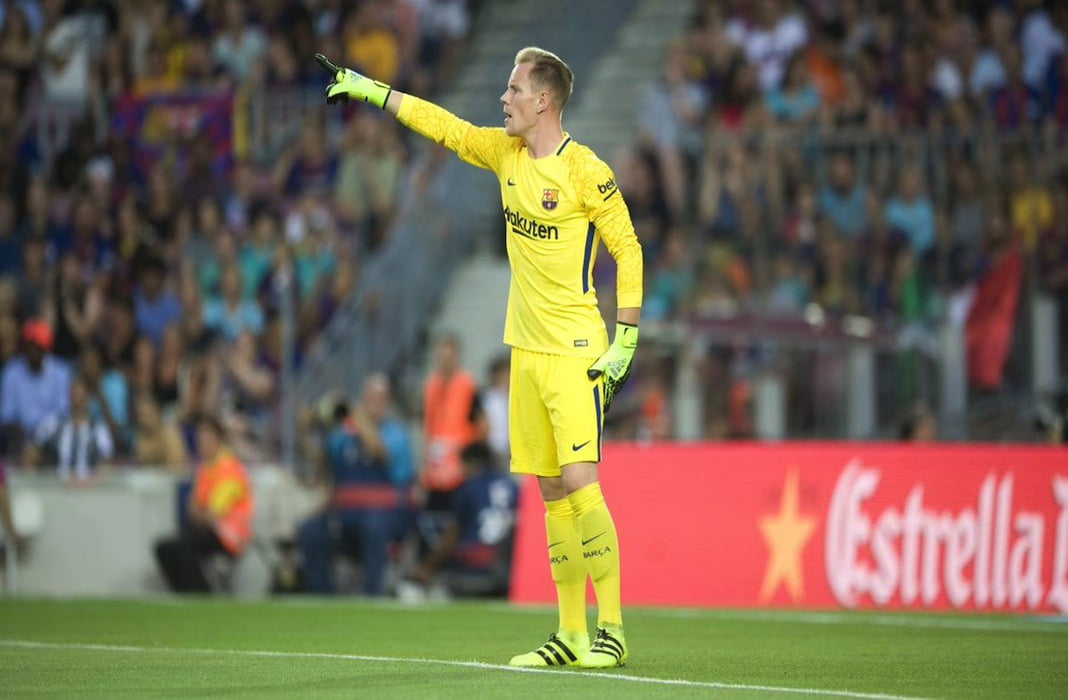 Of course Ter Stegen hasn't done it all by himself. Samuel Umtiti has embraced his inner-Puyol and has quickly become Barcelona's most consistent center back. The frenchmen is averaging less than one foul per game, 0.9 shots blocked in league play and has limited defenders to just 0.3 successful take-ons per game.
Umtiti all season. One of the best young defenders in the World pic.twitter.com/NyIhlqrfzM

— Martin Pantoja (@MP_persources) December 2, 2017
But just how much can Barcelona depend on their defense to win games? What would happen if one of these two players picks up an extended injury or suddenly drops his level?
The center back position continues to be a question mark for Barcelona especially during the Valencia game. Mascherano will be out for the rest of the year and has seen his minutes drastically reduced even when healthy. Pique has had his fair share of top-tier performances but has also been fairly inconsistent especially with his tackles. Vermaelen is still made out of glass and  continues to be a liability.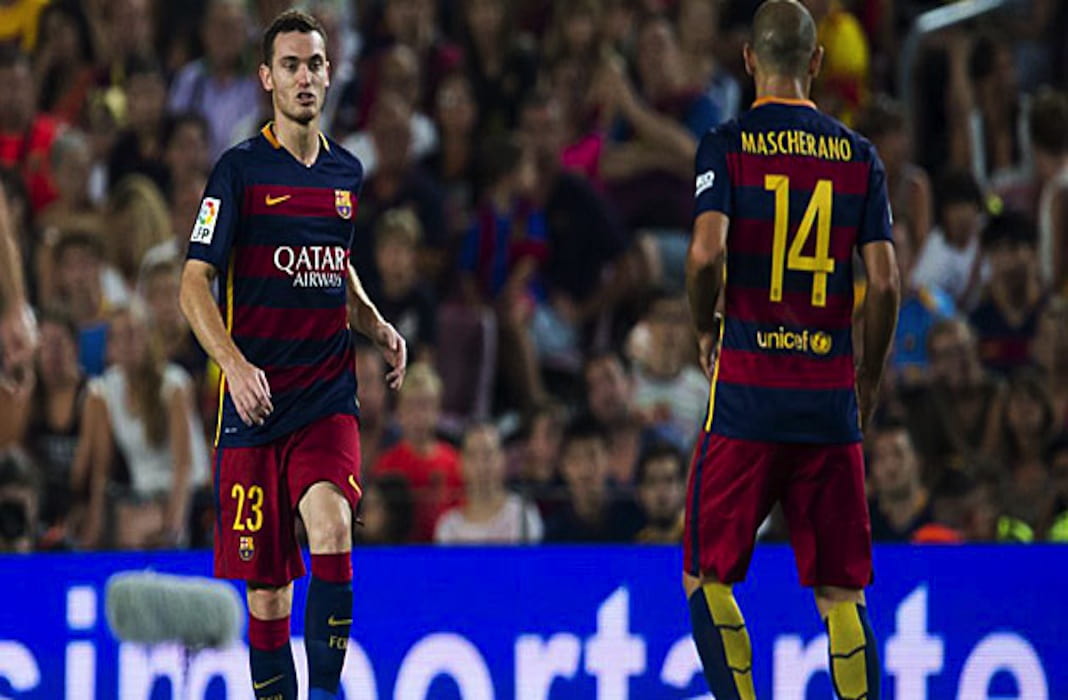 The say defense wins titles which is true. There have been teams that depend on their defense to win them games throughout the course of the season. Just ask Someone how he won the league in 2014. But to win and compete, the team must be capable of scoring as well. Depending on defense is a risky strategy because a bad game by Ter Stegen could come back to haunt them. Let's also remember that their depth in back still raises questions.
Lack of playing time for key role players:
Barcelona have done a better job at buying role players that can go in and change the game when called upon. Denis Suarez, Paco Alcacer, Paulinho (??????) and Deulofeu have all positively changed the game whenever given the chance. The only problem is that Valverde keeps rotating the same players and fails to give others consistent minutes. Denis Suarez is the closest thing to a potential Iniesta that Barcelona have yet Valverde has given him just 363 minutes in all competitions. As a creative winger/midfielder, Suarez would be a great sub during a tough midfield-condensed game. However, the lack of minutes will affect his form and ruin his confidence.
Paco Alcacer is in the same boat. Although he does not possess the same creative gameplay or ability to pressure as Luis Suarez, Paco Alcacer has proven that he deserves more minutes. If Valverde decides to keep his 4-4-2 formation, it's hard to understand why Alcacer does not start alongside Suarez up top with Messi at the CAM. Again, Luis Suarez has more positive attributes than Alcacer and his understanding with Messi keeps him in the starting XI. Nonetheless, a few games on the bench to rest would benefit both Suarez and Paco Alcacer. If Valverde does not want to count on Alcacer from the start, it's important to have Alcacer ready to go when needed. Much like Pedro in 2015, Alcacer could come in late in the game and win the game for his team.
Even though I am a Barcelona fan, I am a fan of the game before anything. I would prefer to see my team play amazing football and lose the game rather than watch them scrape a win after playing boring football. It's only December so it's still too early to criticize Valverde for his job so far. One thing is for sure though. Don't let the results fool you. Barcelona continues to play without set tactics and have been doing just enough to get the results. They've faced three high level opponents and have tied all three. I believe Madrid's recent struggles have made Barcelona appear to be greater than they really are. Hopefully they prove me wrong and they fix all their problems in the near future. I just hope they learn from their mistakes before it ends up costing them a trophy.
Twitter: @MP_persouces IG: @mp_persources