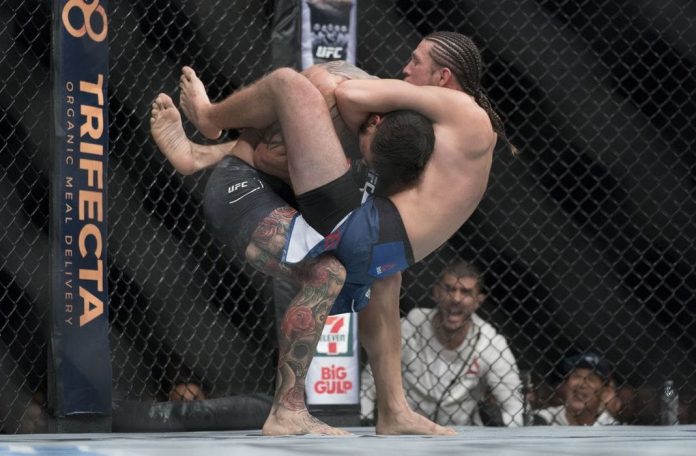 Brian Ortega put on a grappling lesson Saturday night in his main event debut. He dominated the veteran featherweight Cub Swanson and finished him in the second round with a masterful guillotine choke. Brian "T-City" Ortega moves to 5-0 in the UFC with one NC. All five of his victories were won by submission or knockout, and the first four all came in the final round. Last night was different. He made quick work of Cub and threw his name in the ring for a title shot.
T-City is a jiu-jitsu guy who trains with Rener Gracie, one of the best jiu-jitsu practitioners in the world. It's no surprise three of his five victories have come from submission. He goes into a fight looking to submit his opponent, and he's as dangerous with it as any knockout artist out there. His technique and ability should scare every fighter out there in the 145-pound division, because not many MMA fighters in the world can grapple with Ortega.
He won his third fight of the night honors after beating Swanson in dramatic fashion. He almost had him at the end of the first round with a DEEP darce choke, but Cub was saved by the bell. Ortega knew he could get that neck, and early in the second round he went for a guillotine. When he had it, he jumped on it, and wrapped him up like a spider-monkey as his trainer Rener Gracie would say.
Ortega and Swanson were both Californians fighting in their home state. The 26-year old Ortega is really starting to hit his stride and is very close to a title shot. Frankie Edgar is most likely still in line to get the next shot against Max, which leaves Ortega one win away from getting a shot at the strap. He's my favorite fighter in the division. He's my pick to be the breakout fighter of 2018 and win the featherweight belt in the year to come.
There is still a lot of career to be played out for Ortega, and only time will tell where it leads him. Everyone is going to be expecting big things out of T-City in 2018, himself included, let's see if he can deliver.