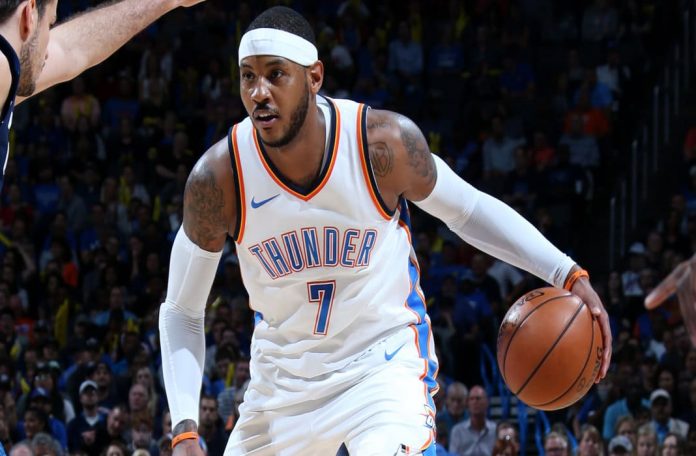 There comes a time when the fight for an NBA title is a main priority for most players. For Forward Carmelo Anthony, it doesn't seem like a huge priority. That's why he'll forever be the Charles Barkley of this era.
Winning a championship is all about sacrificing for the benefit of the team. Now, OKC has a great line-up and a chance to contend for a title this season. Melo is used to being the "go-to" option on offense, and well, he isn't. You would think he would've known that before the season began, but let's be real, it's Melo. A reporter asked him before the season "how do you feel about coming off the bench"? Anthony responded with a laugh, and that said everything to me. Melo will always be about himself and the money. He's never proved to me that he's a winner in any sense of the word.
In Denver, I admit, he was proving himself to the rest of the league for the first few seasons. When he went to New York, that was a move based on his ego. If you think about it New York is a popular place to play and an even better place for marketing your brand. Taking an average of 18-20 shots in 46% from the field would never win the Knicks a title. When he went to Oklahoma City I was surprised that anyone would want a guy like Melo.
Melo is instant offense and will impact a game, no doubt. Moving him to the bench would be a key piece to giving the Thunder's second unit some life. It will allow him to be more offensively sound, because in a lineup with Westbrook and Paul George, it's tough to get "his." By this stage in his career if Melo is still concerned about getting "his" then you will never see Melo win a ring ever!
Now, look at D-Wade who was drafted in the same year as Melo and is in a position similar. He's a Cleveland Cavalier and was a starter in the beginning of the season. When it came time to make some line-up changes, Wade was the first to get dropped from the starting five in exchange for Jr Smith. Yeah, Wade was mad about it at first, as every player should be, but he's a three-time NBA champion who knows what sacrifice is. Back in Miami, he took multiple pay cuts for LeBron and Bosh to come in, and look at what they accomplished. Even when presented a starting role once Isaiah Thomas comes back, he still wants to come off the bench, because it's what's best for the team.
If Melo continues to act the way he's acting, the chance at title will soon fade away if it hasn't already. It's going to be ugly come postseason time for the Thunder.
For more sports news follow me on Twitter @JMan_persources