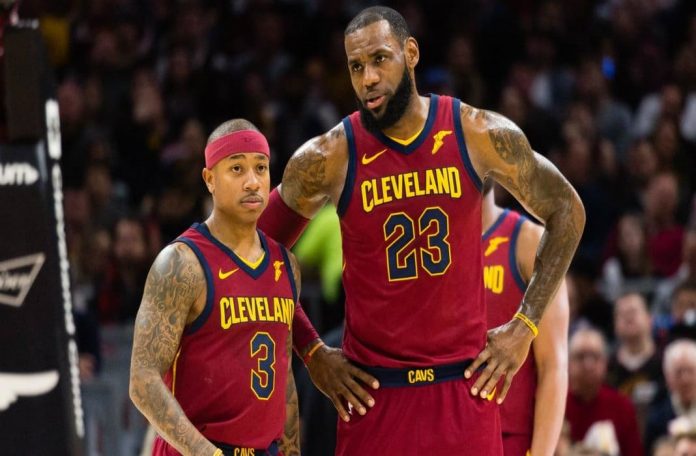 At this point in the season, we know the Cavaliers are a good team. When LeBron James is on the roster, good is never enough, and James has complained about not knowing "who we are" as a team. With Isaiah Thomas returning from injury, the Cavaliers now have a superstar point guard to add to their rotations. There will undeniably be a jump in the Cavs' talent level, as their current point guard is Jose Calderon, but how much will Isaiah Thomas' return help the Cavs? I believe it will vault the Cavaliers to a whole new level and give them a fighting chance against the behemoths of the west. Why? Well, let me tell you.
Shot-Creating
Isaiah Thomas is one of the league's best shot-creators. He can come up with a bucket whenever one is needed. Previously, LeBron was the only guy who could conjure a shot on his own, and Kevin Love did a little bit in the post. Adding another shot-creator in Isaiah will take some of the burden off of LeBron and give him some rest, which he so dearly needs. Also, Thomas will bail the second unit out when he plays with them. He adds shot-creating to a team that could definitely use a little extra.
Play-making
No offense to Jose Calderon, but he is nowhere close to being a premier playmaker in this league. Thomas is not a league leader in assists either. He will, though, now have a 6'9" monster to pass to in LeBron, as well as a blooming Kevin Love and the everlasting meme in JR Smith. Plus, he already has chemistry with the struggling Jae Crowder, which should hopefully lead to an increase in his level of play. Thomas has enough offensive juice to distract the defense, and when he does he can dish it out to a shooter almost anywhere.
Even More Spacing
Driving is LeBron James's favorite thing to do, and Isaiah Thomas is just another target for him to kick out to. But with Thomas' reputation as a scorer, defenders might stick on to him a little more. This will lead to more driving lanes for LeBron, and once defenders adjust, Thomas will be getting open looks himself. Though Jose Calderon is a steady shooter, his name (rightfully) does not carry the same weight as Isaiah. This upgrade in shooting will help the Cavs keep up on nights they don't feel like playing defense.
Leadership and Clutch Play
Now, the final benefit is more intangible. Thomas will help the Cavs immeasurably with his leadership and clutch play. The Cavs can now afford to rest LeBron, and they'll still have a leader in Dwyane Wade or Isaiah Thomas on the floor at all times. Thomas can run an offense well, but the Cavs also hope his positive attitude rubs off on the rest of the team. To beat a team like Golden State, everyone needs to believe in themselves and work together. Finally, if Thomas can keep his "King in the Fourth" act going for the Cavs, he will bring a clutch presence that this squad lacks. LeBron is good in the clutch, don't get me wrong, but he likes to rely on open teammates a lot. Who better to be taking a big shot than the King (in the Fourth) himself?
Naysayers will complain about Isaiah's defensive struggles, but current starter Jose Calderon doesn't bring any more defensive prowess. Thomas brings major help to the Cavs in four different ways. Because of this, Cleveland's difference will be night and day with his return. As to who the Cavaliers are after the Isaiah Thomas return, we'll just have to wait and see.
Agree? Disagree? Think the Great TPR is missing IT4 dearly and regretting all the times he made fun of him? Give me a shout @PerSourcesSam, and we can discuss! Thanks for reading!