Is Michael Bisping beginning his ride into the sunset of his career? After a loss to Georges St-Pierre, Bisping took a fight only three weeks away against rising star Kelvin Gastelum. I'm not sure how many people are tough enough to take a fight on such a quick turnaround, but after back-to-back losses, one has to wonder what the future holds for Michael Bisping.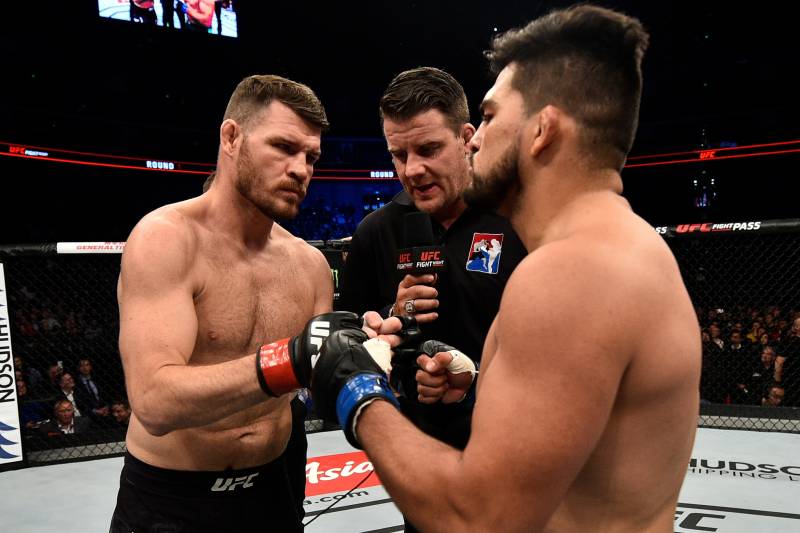 Bisping now sits at 20-9 in the UFC and 30-9 overall as professional fighter. The Count steps closer to turning 40 everyday. At the age of 38, he may have hinted that his time is almost up. In his post fight interview, Bisping said that while Gastelum is a good, young fighter, "I'm getting old." This could very well be in beginning of the end of Bisping's in-octagon career.
"God bless Kelvin. He's young. I've done this for a long time. I'm getting old."
Factoring in age, Bisping certainly isn't the oldest fighter to step foot in the octagon. Dan Henderson retired at 46. Anderson Silva is still trying to fight at 42. With a side-gig doing analysis on Fox Sports, he certainly won't be looking for job anytime soon.
Now even I, who am not the biggest Michael Bisping fan, have to admit that I am impressed with his ability to take a fight with under three weeks notice. I also have to wonder how this fight would have gone had Bisping had a full recovery and camp. Obviously he was already in fighting shape, but what if he had more time to prepare for Gastelum's strengths?
Ultimately, the Michael Bisping we know and love, or love to hate, may only have a few fights left in him. Part of this is pure speculation, but another part of it is what Michael Bisping said himself after the fight. Bisping is a better analyst than most that major networks can muster, so he has a pretty good retirement set up if he so chooses. This is certainly a story fight fans will want to keep an eye on.