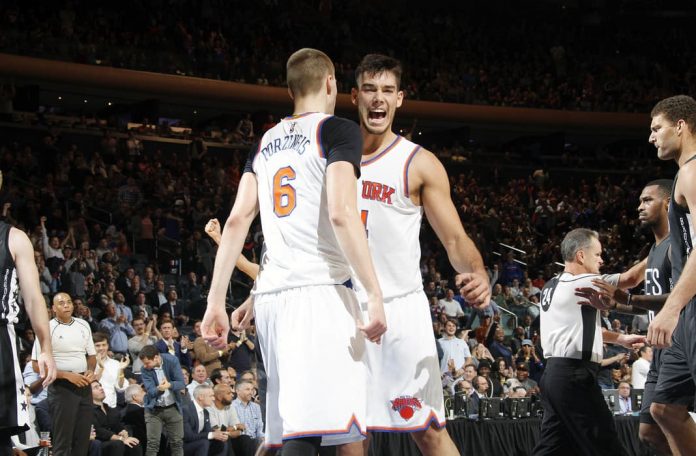 No Slept On this week, because I felt the need to criticize the Knicks. Don't know what Slept On is? They are my weekly articles where I identify a player in the NBA who the media is forgetting about. Check them out here.
This season, the New York Knicks have been a team of… question marks. Despite Kristaps Porzingis' hot start, the Knicks have slowed down and had some close games as of late with some below-average teams. Although I am happy with how the Knicks have shown flashes with the Hardaway-Porzingis duo, I think there are many areas where the Knicks need to improve to compete with the league's top teams.
The way to fix these issues lie in the players who are not getting played.
Where in the World is Willy Hernangomez?
What do Karl-Anthony Towns, Mason Plumlee, Anthony Davis, DeMarcus Cousins, Brook Lopez, Al Horford and Dwight Howard have in common? They were all in the Center slot for their respective All-Rookie first teams. Another person on this list could be Willy Hernangomez, who was on the 2017 All-Rookie first team. When you look at the other players on this list, you can see how the difference between how these players are treated and how Hernangomez is treated in the league. Every player on this list (besides Plumlee) have averaged 20 PPG in at least one season in the league, a stat that is possible due to their prolonged time in the league. Although his stats weren't spectacular overall, a small 8.4 PPG with about an equal number of rebounds, his productivity came mostly in the later part of the season. He averaged only 18.4 MPG,
but he played almost 30 MPG towards the end of the season. Hernangomez has proven to be an efficient scorer and an overall 15 PPG and 10 RPG guy when given the minutes.
That's the problem. Where are those minutes going to? Or more importantly, who?
One answer: Kyle O'Quinn. O'Quinn is a decent scorer and mid-range shooter, a very nice overall player. As a Knicks fan, I can see both players as solid backups to Enes Kanter. So, I think that the Knicks must do something difficult.
Trade Willy Hernangomez.
A young talent, Willy will draw some attraction from several teams in the NBA. The Knicks should look for a mid-first round draft pick, and pick up more young players to continue to rebuild. With Porzingis here for the long-haul, Hardaway on a four-year contract, and Enes Kanter enjoying his time in the Big Apple, I think it's time to cut ties with Willy Hernangomez.
Your Favorite Player's Favorite Player: Michael Beasley
Let me tell you something, I LOVE Michael Beasley.
His aggression and hard work create an energy on the court that no other Knick can create. As a Knicks fan, I'm personally sick of seeing Lance Thomas on the court so much. Beasley's energy and natural ability to score highlight the reasons he should be in the starting lineup with Hardaway Jr. on the IR. Alas, us Knicks fans get to watch another talent sit on the bench. Fantastic. Beasley has had some mon
ster games this year, including a 30-piece against his old team, the Houston Rockets. His solid defensive presence and 15-point contributions on a nightly basis should cause the Knicks to play Beasley at the starting small forward, rather than Lance Thomas. He isn't needed on the bench, as Doug McDermott, one of the leagues top bench players, already comes off the bench for the SF spot. So, if these facts are true, why does Beasley not see the starting 5?
Anyway you draw it up, the Knicks are having a better season than we all expected, but they can still grow from here. These players are the seeds of the Knicks success, they just have to plant them in the Garden.
Think I'm wrong? Wanna talk basketball? Hit me up on Twitter: