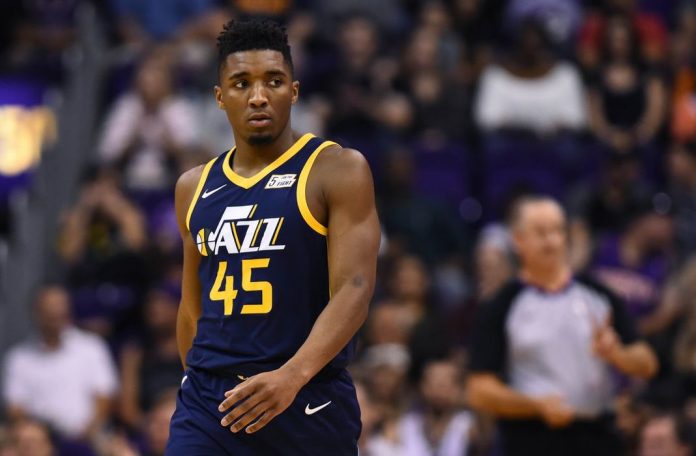 The beauty of writing for Per Sources is that you get to express your sports opinions in a way that only you can. That being said, I also have the right to call your list trash. No hard feelings James, but I need to address Top 5 Rookies List, which you can find by clicking here.
First of all, giving Donovan Mitchell credit for his performance, because he's only 6'3, is ridiculous. He isn't Isaiah Thomas, nor is he the first successful 6'3 guard to ever play in the NBA. Second of all, mentioning him in the same breath as Vince Carter is blasphemous. Third, you failed to give us a good reason as to why he is better than Ben Simmons. Having Tatum as third is hard to argue, especially after mentioning that he was NBA ready from the get go. You did gloss over the fact that you picked him as your Rookie Of The Year initially though. The one thing I will give you credit for is giving Lauri Markkanen the credit he deserves.
I want to be very clear about my process. I am not ranking who I think the media will vote as their ROTY nor am I posting my rankings for that award. I am posting my player rankings, based on their performances up until this date, in combination with the potential that they've shown.
Before I begin, respect to OG Anunoby and Frank Ntilikina , who do a lot of great things that people don't often notice. Also, I have high hopes for Lauri Markkanen and Kyle Kuzma.
Now let's show James Macey how it's properly done.
5. Markelle Fultz- Philadelphia 76ers
As much as I wanted to put Lauri Markkanen, Kyle Kuzma, or Frank Ntilikina in this spot, I decided to play with fire instead and go with my gut feeling. There has been a lot of confusion and mystery surrounding Fultz this season. The no.1 overall pick has missed most of the season due to injury and fans have been quick to dub him as a bust. I, however, am not ready to do that. Nor will I simply forget about him just because he's hurt. Fultz is an athletic 6'4 point guard with a high basketball IQ. He has shown flashes of his ability to get to the rim and his willingness to play on both sides of the ball. Although, much like Kuzma and Markkanen, he has struggles on the defensive end, the mindset is something that a successful organization can help him develop. We saw this on display in Boston, with Jayson Tatum evolving into a capable and willing defender. I'll give the 76ers and Fultz the benefit of doubt for at least one more summer before I give up on the kid.
4. Donovan Mitchell- Utah Jazz
Standing at over 6'1 and 235 pounds, The Great TPR is able to take on most of the population of the planet earth in a fist fight. This pays off tremendously when you rank Donovan Mitchell fourth on a rookie list, while most people have him as first overall. In today's NBA you need a capable scorer. Donovan Mitchell combines a unique mix of athleticism and the ability to shoot the ball at a high level. His determination to get to the rim has impressed me. However, his 19.8 PTS on a .438 FG% and .347 3P% while attempting 16.6 field goals per game indicates one thing to me that I could have told you without the stats, the Jazz are force feeding him the ball and asking him to shoot a lot. For some reason, I get flash backs of a rookie O.J. Mayo, who averaged 18.5 PTS on a .438 FG%, .384 3P% while attempting 15.6 field goals per game. I bet you started this paragraph triggered, and now you're like, "oh." It happens, welcome to Per Sources.
Now that being said! I don't think Mitchell's career path will resemble O.J Mayo at all! I do think Mitchell will find success in the NBA. However, I simply believe that Tatum is a more capable scorer in almost every aspect of the game.
3. Jayson Tatum- Boston Celtics
When Jayson Tatum called an isolation play versus Amir Johnson, shooing away his teammate, I knew that this kid had the confidence to be successful in the NBA. At Duke, he was known as an isolation scorer. With the Boston Celtics, he has bought in and found himself a healthy mixture. Having the luxury of being selective with his shots has allowed him to have far better shooting percentages than Donovan Mitchell. However, his efficiency is not the only reason why I'm taking Tatum over Kuzma, Mitchell, and several other great rookies. Jayson Tatum has shown flashes of Carmelo Anthony and Paul Pierce, two of the best scorers to ever play the game of basketball at the forward position. Unlike the other two at a young age, Tatum has also bought into the Boston Celtics' defensive scheme early. This has allowed Tatum to play both ends of the floor in ways that rookies are not expected to be able to do. While it's easy to overlook Tatum's success due to the fact that he's playing for one of the best teams in the NBA, you have to keep in mind that he did replace a borderline all-star in Avery Bradley. Those are not easy shoes to fill.
2. Lonzo Ball – Los Angeles Lakers
Watching the Lakers last night, I found myself constantly thinking, "Man, why is this kid not surrounded by shooters?". I could not believe how many of his would be assists were passed away because his wide open teammates did not feel comfortable shooting the basketball. Whether it was Lopez, Pope, or Randle, I saw a lot of potential wide open shots not taken. Lonzo Ball is a poised player who plays with a lot of flare, all while displaying a high basketball IQ on both ends of the floor. When the Lakers surround him with the right pieces, Lonzo Ball is going to lead the Lakers to an NBA championship. Coming from a Celtics fan, that hurt me to admit. The thing that Ball fans should be excited about most? He has shown signs of improvement as the season has gone along. With some off season dedication to his jump shot, paired with his physical abilities and high basketball IQ, I can see Lonzo Ball becoming a dominant point guard in ways Rajon Rondo displayed before tearing his ACL.
1. Ben Simmons – Philadelphia 76ers
Until the rule is altered or eliminated, Ben Simmons is still listed as a rookie. I can't just give Mitchell, Tatum, or Ball the no.1 spot just because I feel like Simmons has an unfair advantage. With the highest player efficiency rating of the group, better field goal percentage than Mitchell and Tatum, and more rebounds and assists than Lonzo Ball, Simmons has earned the no.1 spot on my list. In addition to all that, with the help of Joel Embiid, Simmons has lead the 76ers to the playoffs for the first time in years. Ben Simmons may not be able to shoot the three ball yet, but he continues to dominate the game physically every single night. Much like a young LeBron James or a young Giannis Antetokounmpo, Simmons is playing to his strengths and leaving the rest for off season development. Knowing himself and not letting his ego get in the way has helped earn my respect as well. In addition to all that, all signs indicate that his teammates follow his lead. Ben Simmons is confident kid with a lot of potential. Does this necessarily mean that I'd take him over Jayson Tatum in the long run? No. However, judging from what I've seen so far, Simmons has the necessary tools to succeed in this League for years to come.
At the end of the day, I do look at the game differently. I don't pick guys the media tells me to pick, nor do I pick guys I like using in NBA 2k. Donovan Mitchell could easily prove me wrong. Tatum, Ball, Simmons and Fults, could just as easily prove me very right.
Care to argue? Tweet me @TPRx11