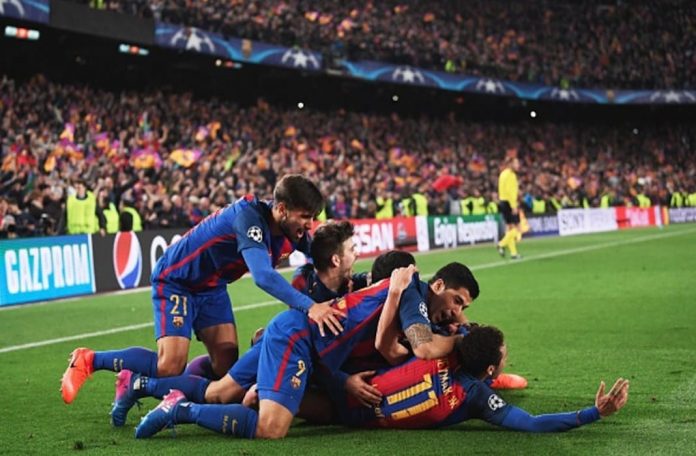 Magical. Euforia. An incredible night lived in Barcelona's Camp Nou exactly one year ago today. The team had done the impossible. They had cemented their names in the history books after completing the most impossible comeback in Champions League history. Down 4-0 in Paris, the team came back home to their people and did not disappoint. A whopping 6-1 scoreline including three goals in the last 10 minutes. And who could forget the iconic goal by Sergi Roberto in the 95th minute to seal the win and initiate the celebrations. What a Remontada and what a night
Not only do I remember the game vividly, I remember the build up to the game just as clearly. A humiliating defeat in Paris ruined Valentine's Day and left fans with awe. It had been years since we had seen our Barcelona losing in such a manner. The team was suffering one of their worst seasons in recent years and there were endless doubts surrounding the team. But the press played its role. Posts with "Yo Creo En la Remontada" or "I Believe In The Comeback" began circling. Players admitting they believed it could be done. Luis Enrique saying that if PSG could score four, Barca could score 6. The club was confident. Me, personally, was not so much. At first…
Im a realistic fan. I see the game as more of a player and an analyst more than as a fan. I criticize the team when needed and set realistic goals for the team. A 4-0 seemed impossible to overcome. It was the player's energy and the heavy propaganda that turned me on to believe. Anything is possible I thought. The 4-0 against Milan in 2012 seemed just as hard and look how that turned out. Slowly, I began to believe. I even made a promise.
The day of the game, I met up with my friend Andrew to watch the game. Andrew is an Arsenal fan (lol) and he had to witness Bayern smack his team AGAIN the day before. He actually had more faith in Barcelona than I did. So we suited up in full Barca gear, I let him borrow a jersey, and we sat down anxiously waiting for the game.
Nerves were in the air and every 50-50 was a battle not just for the players but for us too. When Suarez went up for the header and WON it, we got up anxiously waiting to see if the ball had crossed the line. As soon as Suarez ran by celebrating, we yelled "GOAL" but held back from celebrating as much. We knew what was coming. One done and at least three to go.
Every time Barcelona had a chance, we held our breaths to see if the ball would end up in the back of the net or not. PSG's stubborn defense was pinned back and every single one of Barcelona's crosses were not met. Neymar's shot from distance had me on my feet ready to yell goal..until I saw it go wide. The more the time passed, the less possible it seemed. I was losing faith.
Kurzawa's own goal came from a play that seemed lost. Iniesta somehow found a way to keep it in and his backheel pass caught the defender flat footed and his attempt to clear it went to the back of the net. We didn't see it coming but well take it. 2-0 at half was ideal. Halfway there with 45 to play. With Messi on the field, anything was possible.
The team was in an ideal situation with the commanding 2-0 but deep down we worried. We knew an away goal would be the end of the game. How long could Barcelona keep their intense pressure without breaking? Di Maria was on the bench and ready to come in whenever. Would we be able to pressure so high up and still remain solid in the back?
Right at the start, we saw Neymar getting tripped up inside the box and went down fairly easily. A clear penalty that was somehow not seen by the referee. I was livid to see the referee waved off the call. A game changing penalty was not being called for one of the best player in the World at home. The World was falling apart. That was until the referee changed his mind and decided to give it. Even then, negative thoughts lingered. "What if Messi misses?" We know about his negative history when it comes to penalties. Would the team be able to overcome a miss penalty? How would they respond? Luckily, Messi stepped up and put it away like only the best players do. 3-0 with plenty of time left. It was on.
By this point, we had been yelling so much that people would come out of their rooms to see what all the noise was about. People looked at us like we were insane for yelling at our computer screen. "We could hear you from downstairs" one person said. We lived on the 11th floor. Frankly, we didn't care. It was the most anticipated game of the season and so far so good. It had the chance to be a historical game and I refused to hide my emotions or to turn it down a dial.
Just like that, it was done. It was over. Our dreams and aspirations came up short. All the effort and preparation meant nothing. Cavani was left all alone inside the box and his volley blasted past Ter Stegen into the back of the net. The dreaded away goal had killed us. All I remember is seeing Cavani running to the corner flag celebrating in that white PSG jersey. I remember Di Maria going back to his Madridista way and silencing the Camp Nou. My heart was shattered. I no longer had a reason for life. Nothing to look forward to. It was done.
https://www.youtube.com/watch?v=YlSV1V5ssrg
We did not say a single word after that. We didn't need to. We knew how much Cavani's goal meant to the game. Three goals seemed impossible and Luis Enrique seemed to think so. He even brought in Arda Turan, Andre Gomes and…. Sergi Roberto. The team had given their all and I was proud of them regardless but the fixture was done. Screams of goal were replaced with silence on that 11th floor lobby. Until the 87th minute.
Neymar's time in Barcelona was a rollercoaster of emotions. We all knew he had the ability to become the greatest player in the World after Messi and Cristiano but his poor decision making at times seemed hard to believe. But that game showed us exactly what Neymar was capable of. He stepped up, put the team on his back and made big game plays during times where no one else believed. Neymar believed. And he did it.
A magical free kick in the 88th minute seemed too little too late. Unfortunate to see that a goal of that caliber would be forgotten. Still, 4-1 with two minutes left plus stoppage time. Seemed impossible. PSG would bleed out the clock and that would be it. At that exact moment, we saw the lack of experience PSG had. The had various chances to bleed out the clock and decided not to. Players sprinted on to the pitch when they got subbed on, keeper didn't even flirt with a yellow card for delay of game, players didn't take the ball to the corner flag to waste the time. None of that. Meanwhile, Barcelona kept believing. They kept fighting. PSG had the chance to kill the beast but chose to spare its life.
When we saw Suarez go down in the box, we yelled "penalty!" at our screen. In all honesty, we hadn't even seen the full play but we were somehow confident it was a penalty. Apparently, the referee was on the same page because he pointed to the spot. Replayed showed that Suarez had in fact gone down extremely easy. For some reason, he went down grabbing his neck. After multiple replays, it was clear that Suarez knew exactly what he was doing when he crossed right in front of Marquinhos looking for contact. He got that contact and exaggerated it like he got shot. Yes, he blew it out of proportion but there was in fact contact. Penalty.
Neymar's annoying run up before his penalty seemed to take hours. His little stop and go steps had the World at the edge of our seats waiting. He slotted it home and sent the keeper the wrong way. 5-1 with four whole minutes. It was possible. The stadium quickly caught on to Neymar's energy and began to roar for their team during a critical moment of the game.
Four minutes between Neymar's second goal and the end of added time. 240 seconds that lasted an eternity but at the same time passed by with alarming speed. Whenever the ball went out, you would get the feeling that that was it. Yet somehow, Barcelona kept getting chances. They got a free kick inside PSG's half and of course Ter Stegen went up meaning the goal was empty. PSG cleared the cross but it was Ter Stegen himself who recovered the ball and was subsequently fouled by Verratti. Last chance..
Neymar picked up the ball and crossed it in but it was cleared by PSG once again. This time, it landed right for Neymar who faked a cross and set himself up for a cross with his left foot. All 20 players on the field were right outside PSG's box awaiting the cross. Neymar's ball was perfectly lobbed over everyone's head. Right when it seemed like the ball was too high for everyone, we saw an outstretched foot meeting the ball perfectly in the air. An unmarked Sergi Roberto was the only player who had read the trajectory of the ball and stretched out like Michael Jordan in Space Jam. The funny thing about that goal was the fact that he did not put any strength in that shot but it was just enough to beat the outstretched keeper.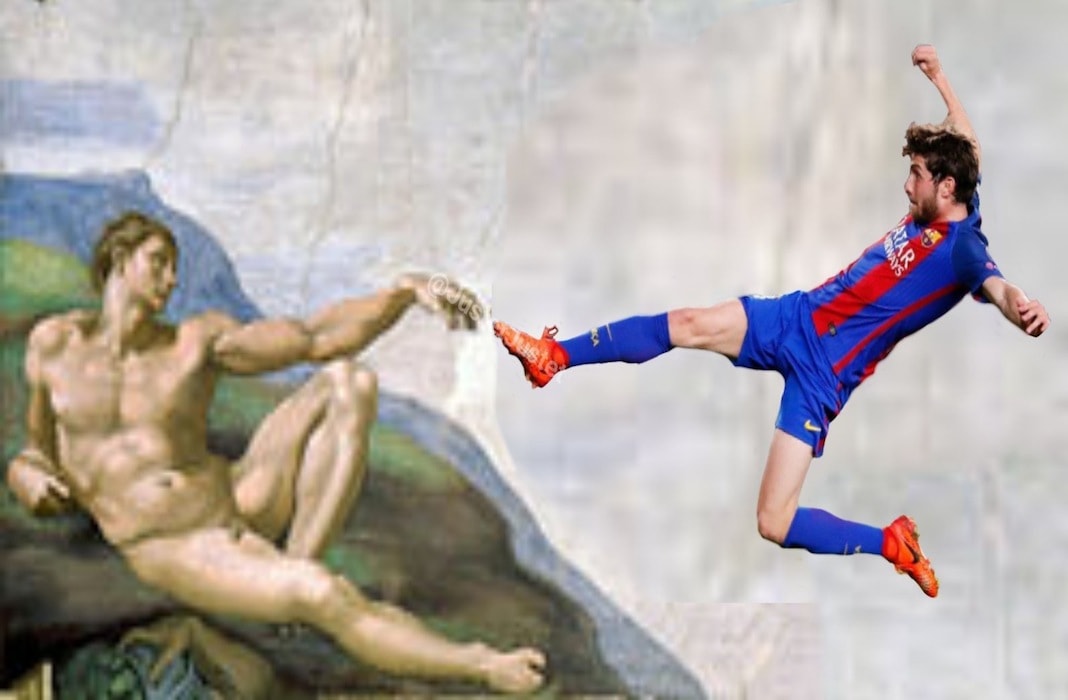 Before I went into complete euforia, I waited to see if Sergi Roberto was actually onside. I had learned my lesson about celebrating goals that were offsides (thanks Higuain). Andrew started yelling and hugging me saying "No fucking way bro!! They did it!!". When I saw the team celebrating, it finally hit me. I started running up and down the hallway yelling out "GOLAZO" along with various curse words in Spanish. I slid down the hallway pretending like I was a Sergi Roberto sliding feet first on that perfectly trimmed Camp Nou grass. I had never reacted like this in my life. Yet again, I had never witnessed a game like that.
The game meant the World to the entire Barcelona community. In an uncharacteristically painful season, the team gave us a reason to believe. They showed us the beauty of the game. The reason we love sports. Anything can happen until the referee blows that final whistle. Nothing else in this World can replicate emotions like the ones I felt that day. 90 minutes of inexplicable magic that will never happen again.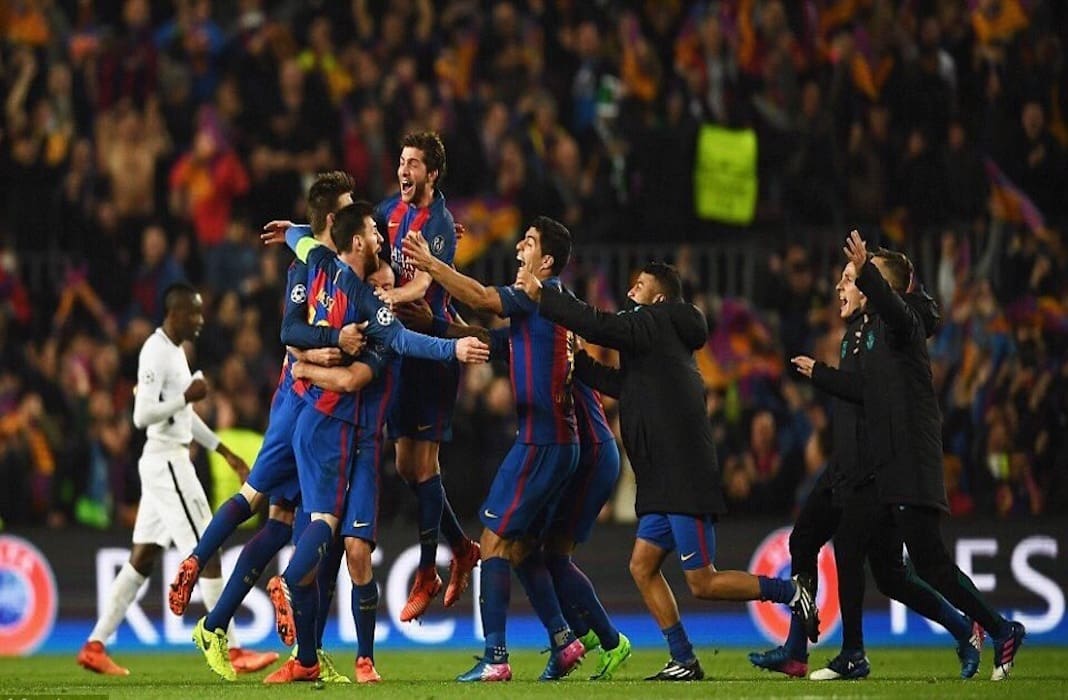 Thank you Lucho. Thank you Neymar. Thank you Sergi Roberto. You gave me greatest memory of my life.