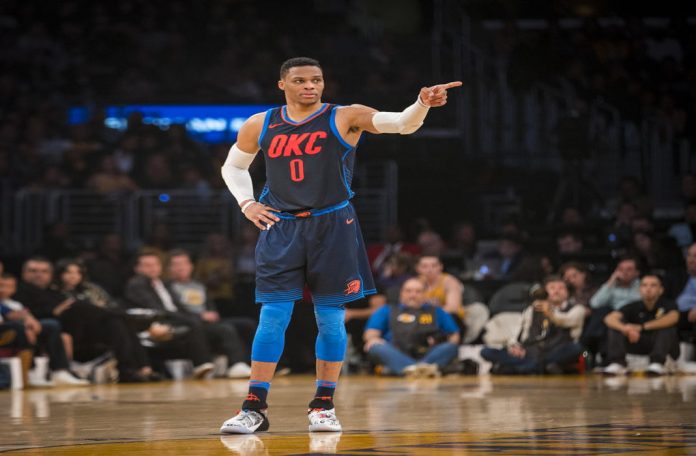 Russell Westbrook is a guy we can all learn a thing or two from. From his triple-doubles to his work ethic, the guy's a straight machine. I think this is finally something the Great TPR and JMan can both agree on. People need to stop overlooking Westbrook and start looking at what he's able to do.
It irks me that people started to take him more seriously when KD left because he was doing the same stuff he's doing now with Durant at the helm. He may come off as a shooting guard, but his stats speak otherwise, but let's face it you already knew that.
Westbrook should be the role model for what an NBA player should strive to be. Stuffing the stat-sheet doesn't mean anything when we're talking about work ethic. That's the reason his crazy stat-lines exist. Westbrook has been in the league for 10 years now and has only missed 34 games. In five out of his ten seasons, he hasn't missed a single game, and he's on pace to make 2017-18 his sixth such season. It doesn't matter if it's the Hawks or the Warriors on the schedule, the man plays his heart out every single night and gives us all 48 minutes of pure determination. Name me a night he didn't show up to play? I'll wait.
With triple-double numbers, Westbrook has created one of the best duos in the NBA with Steven Adams, and he's managed to build a solid team with key pieces to support him. Whether you believe it or not, guys want to play with Westbrook. The biggest complaint during the KD days was that Westbrook was selfish and took shots away from Durant. The same doubt came at the beginning of this season when Paul George and Carmelo Anthony chose to accompany him.
Today, five guys on the roster are averaging double-digits, so we can kiss those doubts goodbye. Westbrook is an all-around player and goes out of his way to include his teammates in any way he can. Adams went from an ordinary center to being in the conversation for top five just by the backing of Westbrook.
Now let's not shy away from what Westbrook's accomplished thus far. He's the second player in NBA history to have averaged triple-double, yet no one seems to care.
Most fans and reporters often overlook this side of him, because he's one of the toughest people to interview according to prominent writers around the game. He plays with emotion and that translates to his interviews. Russ is like Gregg Popovich, but he can be more outspoken at times. He isn't afraid to say what he feels and people misinterpret him as arrogant or cocky.  
Let's put a little respect on Russell Westbrook's name, as he's one of the most loyal players in the NBA today and someone that aspiring players should look up to.