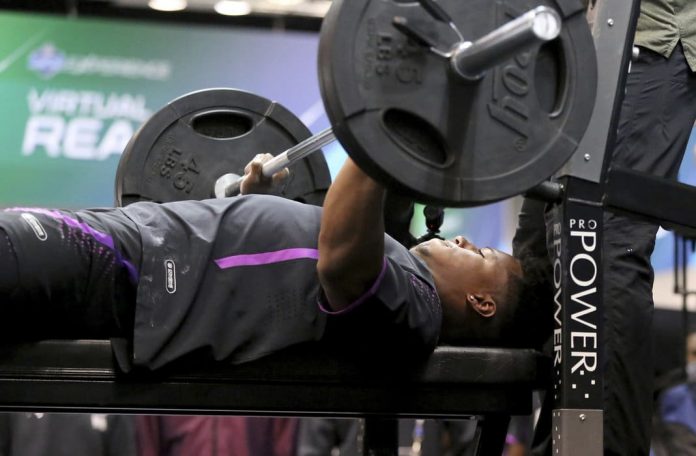 This year's NFL draft will be full of excitement in the first three rounds. A lot of great college players are coming out to join the pros. Among those great college players is the nation's best running back, Saquon Barkley out of Penn State. In an impressive combine, Barkley, by comparison, is bigger, faster, stronger, and quicker than many of his soon-to-be NFL colleagues.

Bigger
While this ties into stronger, Barkley is by no means a small back. Standing at 6′ tall and 235 pounds, getting in Barkley's way will not be fun for defenders. Similarly sized NFL backs include LeGarrette Blount, Ezekiel Elliot, and Marshawn Lynch. As for the guys that will be tackling Barkley, we'll take a look at that in our stronger section.
Quicker
What's the difference between quicker and faster? I'm glad you asked. Quicker means Barkley can create speed and space quickly, while faster is the overall open-field speed. Barkley's 10-yard split in this year's combine was 1.54 seconds, considered a great split time. The importance of the 10-yard split is that it allows scouts to gauge if a player can get up to full speed within their first few steps. Guys in the NFL with better split times in their combines? Cliff Avril and Chris Long, at 1.50 and 1.53 respectively.

Faster
This year's combine saw some very fast 40-yard dashes, Barkley lead all running backs with a 4.4. What makes the 4.4 second dash impressive is Barkley's size. Though there were faster players than Barkley in the 40, they were mostly defensive backs and receivers, not 235-pound brick-house running backs. Give Barkley open space, and the 11 guys on defense are going to have an earful when they hit the sidelines.
Stronger
The average bench press performance of running backs is somewhere in the mid-teens to low-twenties. Barkley put up 29 reps of 225 pounds on the bench, matched only by Georgia's Nick Chubb for running backs. Barkley out benched many of the guys that could block for him. As far as the ones trying to get to and tackle Barkley, well he went ahead and out benched the vast majority of them too.
Penn State RB Saquon Barkley at 2018 Combine:

– Stronger than Joe Thomas
– Quicker than DeSean Jackson
– Faster than Devin Hester
– Jumps higher than Julio Jones@PennStateFball pic.twitter.com/usgR6vJvOn

— NFL Research (@NFLResearch) March 2, 2018
As the NFL Research twitter showed, Barkley is stronger, quicker, faster, and able to jump higher than many of the games recent stars. This kid out of Penn State is going to have a bright future in the NFL. To the defenders charged with stopping him, have fun. As for the Cleveland Browns, you might not want to let him slip to the Giants.