One of the best quarterbacks of the last decade looks to have fallen off and fallen fast. Before the season, he was up there with Tom Brady and Drew Brees as the best quarterbacks in the league today. It appeared he was headed straight to the Hall of Fame without stopping. For some reason, Aaron Rodgers' 2016 season has been nothing but disappointment.
After having one of his worst seasons of his career in 2015, everyone expected Rodgers to bounce back. There were excuses set up for him last year. WR Jordy Nelson missed the entire season after suffering a torn ACL in the offseason. That put Randall Cobb as the number one receiver, a position he did not succeed in. RB Eddie Lacy struggled to get anything going. He finished 20th in rushing yards and 31st in yards per attempt. Not to mention how poor the defense looked.
With all of these areas of concern supposedly addressed in the offseason, NFL fans and analysts expected to see improvement in Rodgers' numbers. That hasn't been the case.
For these stats we looked at all QBs above 60 attempts. 
His Passer Rating of 88.4 is good enough for 22nd in the league behind the likes of Browns' QB Cody Kessler, Bears' QB Brian Hoyer, and Broncos' QB Trevor Siemian.
He currently sits at 26th with 234 Yards Per Game, behind Dolphins' QB Ryan Tannehill, Jets' QB Ryan Fitzpatrick, and Rams' QB Case Keenum.
10 passing touchdowns put him at eighth, however, compared to his interceptions, his 2.5 TDs/INT is good for 18th.
Something he was often known for, his completion percentage, has decreased every year since his MVP season in 2011. This year it has hit a career low at 60.2%
Who is there to blame for Rodgers' lackluster performance?
Maybe his receivers are dropping the ball?
His total receiving core has only four drops this season.
Can he blame the running game?
Eddie Lacy has been productive this year. Definitely better than last year. He is averaging 5.1 YPC, which is good for sixth for RBs with atleast 50 carries. None of the backs have been able to get into the end-zone yet, but Rodgers has two rushing TDs.
Is it the defense?
Shockingly, the Packers' defense has stepped up in a big way this season. They are the number one rushing defense, allowing only one rushing touchdown and the fewest rushing yards in the league. Their pass defense is middle of the pack (11th in yards and 20th in TDs), and their getting to the QB, as they are sixth in sacks.
So, what is it?
Maybe we are seeing the regular decline of a quarterback. We have become accustomed to seeing guys like Drew Brees, Tom Brady, and Peyton Manning perform well into their mid-late 30's, but maybe we should readjust realizing that may not be the norm. At 35, he may not be able to make all of the throws that his mind wants him to. That takes some time to get used to and time to accept.
Green Bay is currently sitting in second in the NFC North at 3-2, just a half game above the Detroit Lions. If they continue on this trend it will be their second year in a row missing out on the playoffs, and only the third time in Rodgers' career. This week's divisional match-up against the Chicago Bears will prove whether or not Rodgers is really in trouble.
Here's an interesting comparison to the QB he will be going against this week: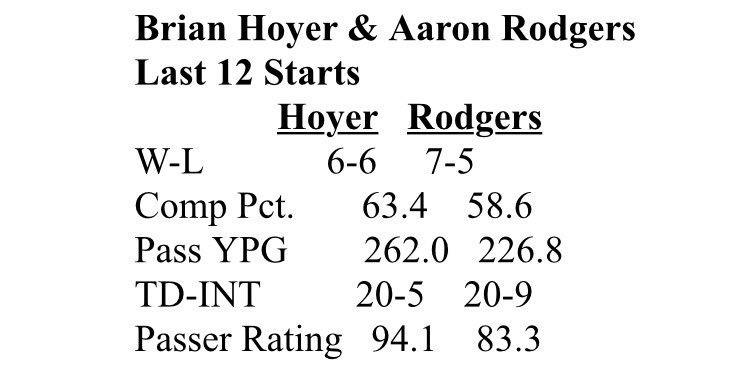 A couple years ago this gunslinger told us to R-E-L-A-X, however, it might be time to begin the P-A-N-I-C.
Comments
comments