With the legal tampering period underway, we are less than two days from the real New Year's Day. We've gone through QBs, RBs, WRs, and TEs. I have decided to skip over the offensive line, because that information just isn't as interesting. We're on to the DEs.
TOP 5 FREE AGENT DEs 2017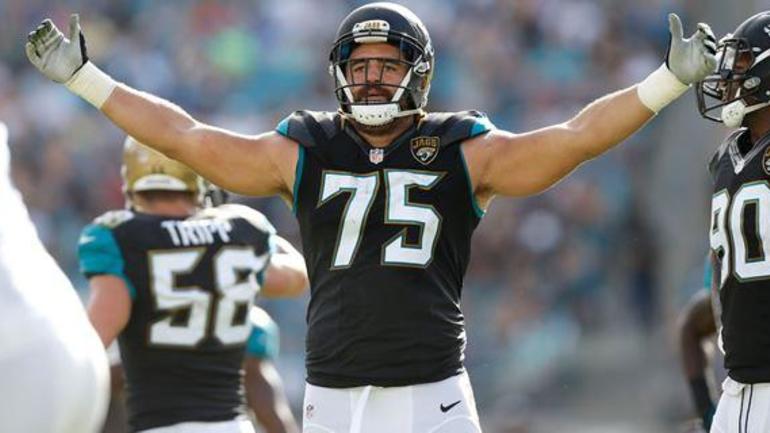 5. Jared Odrick
Odrick was selected by the Miami Dolphins with the 28th overall pick in the 2010 NFL Draft out of Penn State. He played in only one game his rookie season before breaking his foot and missing the remainder of the season. The remaining four years of his rookie deal resulted in 16.5 sacks, and he did not miss another game.
In 2015, the Jaguars signed Odrick to a five-year contract worth $42.5 million. His first year in Jacksonville was arguably the best season of his career, recording 5.5 sacks. The next year he suffered multiple injuries that would cause him to miss 10 games. In an effort to save money, the Jaguars released Odrick in February.
Odrick clearly has the pass-rush ability to with some length and strength. He may not be a dominating presence but could get his five sacks per season. He could see another offer that pays him roughly $7 million per season, and he will likely take the highest offer out there.
(Not really any highlight tapes of Odrick)

4. Chris Baker
Baker went undrafted in 2009 out of Hampton University, the I-AA school he transferred to after an expulsion from Penn State. His first couple years were rough, as he bounced around Denver and Miami, playing one game for each franchise. He even spent some time in the United Football League before finding his role.
In 2011, Baker signed with the Redskins. He was placed on IR in his first season without playing in a game. Due to an injury the following year, Baker took the backup NT spot, appearing in 14 games. He was signed as a restricted free agent and finally starting producing on the field.
He was signed to a three-year contract worth $12 million in 2014. Baker had competed and won a starting job. Over the next three seasons, he would rack up 11.5 sacks and over 80 tackles.
Baker is beginning to establish himself as a solid 3-4 DE/4-3 DT. He has the skills to get after the passer a couple times a game, but his main focus is controlling that line and taking on double-teams. He probably will find a contract that will pay him between $5 and $6 million per season.
3. Jabaal Sheard
Sheard was drafted by the Cleveland Browns in the second-round of the 2011 NFL Draft out of Pitt. He was an NFL force immediately, recording 15.5 sacks in his first two seasons. Even in his third year, missing three games, he would put up a solid season with 5.5 sacks.
An all too frequent coaching change effected Sheard's ability. New HC Mike Pettine wanted to play a different style of defense that left Sheard as the odd man out. He would have his worst season yet, adding only two sacks.
In 2015, he signed with the defending Super Bowl champions in New England on a two-year deal worth $11 million. There, he would play a role that would allow him to get to the quarterback on third downs and spell other guys. Sheard bounced back up to eight sacks in his first year with the Patriots.
Last year was not as pleasant for the 27-year old DE. Sheard was expected to step up to the starting defensive end role with Chandler Jones traded and build on the season he had the prior year. The job was pretty much split time between Trey Flowers, Sheard, and Chris Long. He was benched in week 10, but the reason was never made public. 2016 would end with five sacks.
Sheard still has the ability to be a starting pass-rusher in this league. He will continue to get between five and nine sacks per season, but that appears to be his ceiling. It will be interesting to see whether he goes back to New England, because there haven't been any reports about how he felt after being left home when the team traveled to San Francisco.
2. Andre Branch
Branch was selected by the Jacksonville Jaguars in the second-round of the 2012 NFL Draft out of Clemson. The first three seasons of his career, Branch was a role player. In his reduced role, he would put up 10 total sacks in three seasons combined. In 2015, a contract year, he would put up 4.5 sacks and two forced fumbles. This earned him an opportunity outside of Jacksonville.
He signed a one-year deal worth $2.5 million with the Miami Dolphins. He started 11 games in 2016 and collected 5.5 sacks, the second-most in his career.
Although Branch doesn't have a great resume thus far, he is entering the prime of his career at 28 years old. He has the size and speed to be an effective edge rusher. He just needs to opportunity to explode in a good system.
(NO ONE HAS MADE AN ANDRE BRANCH HIGHLIGHT TAPE YET!!!)
1. Calais Campbell
Campbell was drafted by the Arizona Cardinals in the second-round of the 2008 NFL Draft out of Miami (FL). His rookie year he appeared in all 16 games but was behind Antonio Smith and Travis LaBoy on the depth chart. The following season, Campbell stepped up into the starting role and never looked back. He put up seven, six, and eight sacks in the remaining three seasons on his rookie deal.
In 2012, the Cardinals paid Campbell $55 million on a five-year contract. He continued his string of his success, totaling 35.5 sacks over the course of the contract. The DE would also see two Pro-Bowls in 2014 and 2015, and he would have seen another in 2016 if the competition at DE in the NFC wasn't so strong.
Campbell is the most dominating DE on the market right now. He will be the 31 years old this upcoming season, and he isn't showing signs of aging. His strength is unmatched on the field, and that's not something that drops quickly. It is tough to tell what Campbell wants to do, because he has never won a championship, but a lot of people feel Arizona is in contention. Either way, he will get PAID this offseason, and I would guess it would be over $10 million per season.
Which teams should be looking for DEs:
Indianapolis should be looking for help at most positions other than QB, WR1, WR2, or TE. They will need players at all three levels to provide support for their offense. Adding a guy like Campbell or even a lesser, cheaper DE can help fill the void that Robert Mathis is leaving.
Cleveland should also look to add help at the DE position. Emmanuel Ogbah has a year under wraps and should see progression. They will look to address it either through the draft or free agency. With playoff hopes far from the Browns, I think they would be more likely to grab someone in the draft.
Oakland had the worst sacks/game ratio in the league with a 1.6 sacks per game. Even though the Raiders already have one of the best, if not the best, pass-rushers in the NFL in Khalil Mack, they should be interested in adding another guy. Their defense was supposed to be improved in 2016, but the difference wasn't enough. This team could completely change their look and make a deep run.
Detroit is another team that finished near the bottom in sacks last season. Obviously you have a successful player in Ezekiel Ansah, but an addition would significantly impact the defense. They have a strong LB core and a number one CB in Darius Slay, but adding another DE could make their defense even more feared than they already are.
Comments
comments