A day away from the beginning of the league year. We have gone through QBs, RBs, WRs, TEs, and DEs. Time to get into the big guys in the middle of those defensive fronts. Let's take a look at the defensive tackles.
TOP 5 FREE AGENT DTs 2017
5. Tyson Alualu
Alualu was selected by the Jacksonville Jaguars with the 10th overall pick in the 2010 NFL Draft out of Cal. The big man made a big splash right away. He started every game of his first four seasons, totaling 11 sacks and over 100 tackles. In his fifth-year, he was passed up by Sen'Derrick Marks and Roy Miller for starting reps at the DT position. This would allow Alualu to become more of a role player and still produce.
In 2015, Alualu re-signed with the Jaguars two-year $6 million deal. He finished out those two years as a starter, adding another 4.5 sacks to his resume.
Alualu is an extremely strong defensive tackle. At the position, he is supposed to be more of a run-stopper, but he has shown that he can get his few sacks per season. With Miller and Marks still taking up some snaps in Jacksonville, I could certainly see him moving on to another team for a bigger role. Entering the prime years of his career, he could probably see a pay increase at $4-5 million, instead of the $3 million per year he made on the last deal.
(There are no Alualu highlight clips. SAD!)
4. Alan Branch
Branch was drafted by the Arizona Cardinals in the second-round of the 2007 NFL Draft out of Michigan. His four years spent with the Cardinals were not very promising. He started only three games during that span. The following year, Branch signed a two-year deal with the Seahawks. He won the starting job and excelled in the run-stopping role.
In 2013, Branch signed a one-year deal with the Bills. Midway through the season, he had earned himself a three-year $9.3 million extension. He wasn't having the same success he saw in Seattle, but he was doing well. The following August, Branch was arrested for a DUI. He was cut by the Bills, and the football world questioned his commitment to football.
Two months later, Branch found a new home in New England. He played in half of the games his first season and helped the Patriots win a Super Bowl, the first of his career. His play got him a new two-year deal worth $6.6 million. He played himself into the starting DT, and was known as one of the best run-stoppers by the end of the 2016-17 campaign. He was also known as a two-time Super Bowl champion.
Branch is one of the better run-stoppers in the league and has proven that he can bring some pressure up the middle as well. At 32, there are two ways the DT can go. He can either continue to play in place he enjoys, or go out and get as much money as he can. Run-stopping DT isn't a very high-priced position, but he can still make around $4 million a year if he wants.
(I'm seeing a theme of DTs not having highlight tapes)
3. Domata Peko
Peko was taken by the Cincinnati Bengals in the fourth-round of the 2006 NFL Draft out of Michigan St. His rookie season, he was stuck behind Sam Adams and John Thornton, but he appeared in all 16 games. By 2007, Adams was gone, and Peko was unleashed. He dominated the run-game and showed up on the stat sheet with a few sacks in the pass-game.
The Bengals were so impressed with his performance that they give him a $27.5 million, five-year extension in 2008. Peko was now setup to be Bengal through 2014. He continued to dominate as a run-stopper and collect his couple sacks per season as one of the better DTs in the league.
In 2014, Peko was given another extension, this time for two years $9 million. A year later, he would record a career-high five sacks.
Peko is another DT who focuses on commanding the run-game but has succeeded in pressuring the quarterback as well. He brings a strength and quickness combination that is special at his age. Not to mention, he is one hell of a fullback. At 32, he is another guy who is in a comfortable situation and may not want to leave. I could see him signing another two-year deal and retiring a Bengal for life.
(I'm getting mad at the internet for not having any DT highlight tapes)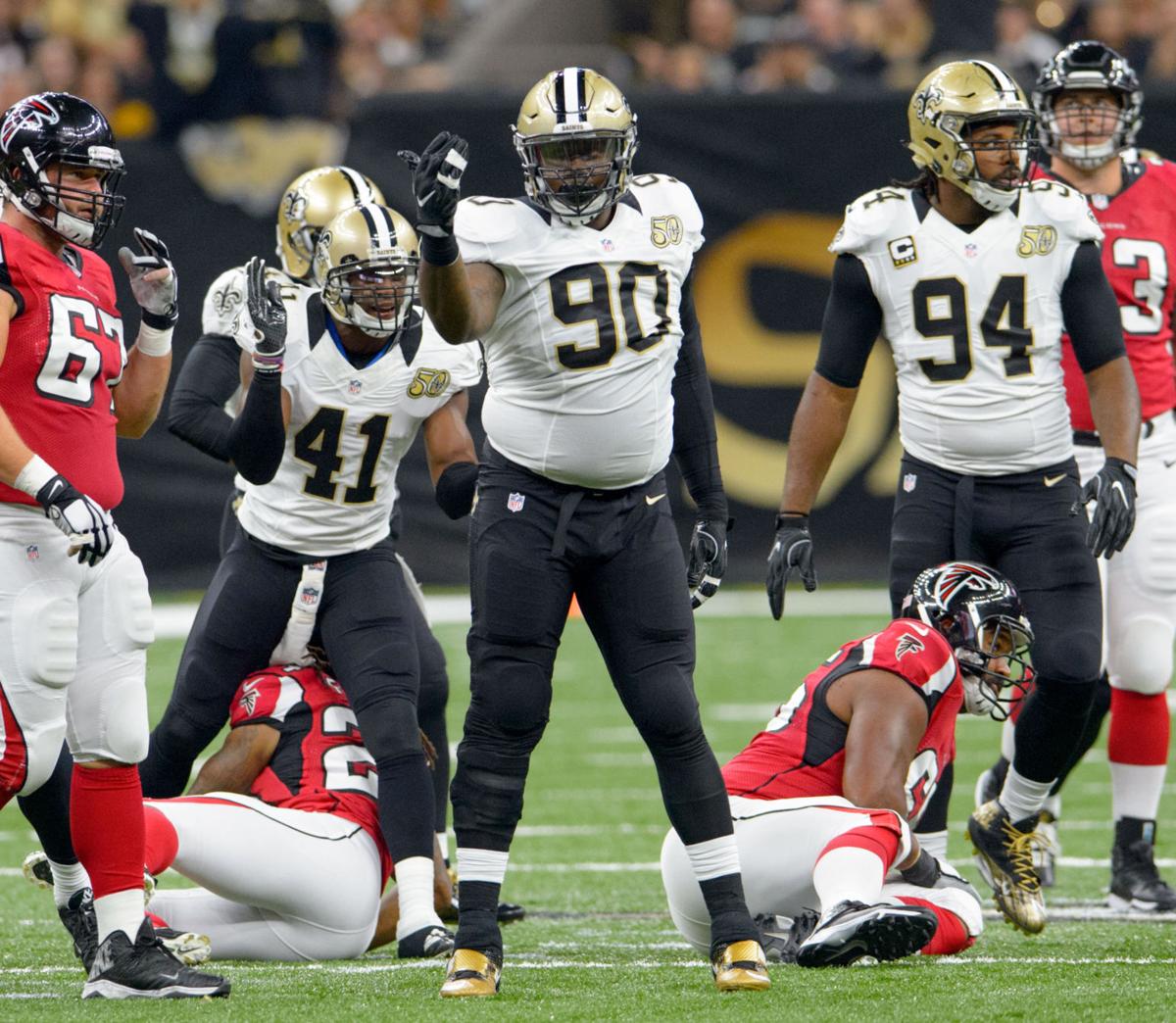 2. Nick Fairley
Fairley was drafted by the Detroit Lions with the 13th pick in the 2011 NFL Draft out of Auburn. With a perennial Pro-Bowl DT in Ndamukong Suh and an established veteran in Corey Williams ahead of him, Fairley didn't get a whole lot of action his rookie season. The following year, he played alongside Suh and saw some success, recording 5.5 sacks before being placed on IR with a shoulder injury.
The next year, Fairley had his best season, totaling six sacks, two forced fumbles, and over 35 total tackles. Just eight games into the 2014 season, his final with the Lions, he suffered an MCL sprain that caused him to miss the remainder of the year. His time in Detroit was considered mostly inconsistent.
In 2015, he signed a one-year deal worth $5 million with the St. Louis Rams. He was kept down on the depth chart behind Aaron Donald and Michael Brockers. He did not record one start with the Rams. New Orleans gave him another opportunity in 2016 with another one-year $5 million deal. He played well, won the starting job, and set a career-high in sacks with 6.5.
Fairley is athletic but has been very inconsistent in his career. He has the ability to play as one of the top DTs in the league, but there is something holding him back. Whether it be his motor or love of football, something has hurt his career thus far. This is the time for him to change his legacy. He should look into staying with the Saints, even if they offer less money, because he has seen success and comfort there.
(Thank God)
1. Dontari Poe
Poe was selected by the Kansas City Chiefs with the 11th overall pick in the 2012 NFL Draft out of Memphis. Poe came in and made an impact right away, starting all 16 games in his rookie season. The next two seasons he would record 4.5 sacks and 6 sacks respectively and earn two Pro-Bowl appearances. 2015 and 2016 have been a bit of a disappointment considering where he was at two seasons ago, but he still is a valuable DT.
The 26-year old has just about everything you want in your defensive tackles. He is a strong, big body that controls the gaps. He has deceptive quickness that allows him to get into the backfield and pressure the QB. Just in case that wasn't enough he became the largest player in NFL history to THROW a TD last season. He's the complete package and should be commanding around $6 million a year.
There were reports that they haven't been receiving the offers they expected, but we really don't know what they were looking for. He may still get paid as one of the top DTs in the league, or he may not. I guess only time will tell.
What teams should be looking for DTs:
Most teams should be looking for interior-line help, because there are only a handful of really great guys. Guys like Aaron Donald, Ndamukong Suh, and Fletcher Cox have really paved the way for these guys to be sought-after.
The Redskins should be looking to add a DT. Both of their guys, Kendric Golston and Ziggy hood, are free agents. They could technically bring them back for cheaper options, but if you want to beef up your line, these guys are the ones you want. Nobody knows who is calling the shots in Washington.
With Wilfork's future in question, the Texans should look into a DT. This is one of the only points of their defense that is weak. If they add a guy like Fairley or Poe, they could easily be considered one of the best, if not the best, defenses in the league.
There have been many questions over the last few weeks about the status of DT Arthur Jones in Indianapolis. He was pretty well paid over the last two seasons, but after playing in only 17 games over the last two years, people have seen this is as an opportunity to move on. They could take the $5 million they would save this year and put it towards a more prominent DT, like any of the guys on the list. I know almost every Indy fan would be okay with improving the defense.
Comments
comments