Heading up to the opening of NFL Free Agency (arguably the best time of the year) on March 9, I'll be throwing out a list of the top five UFA at every position. We'll also throw in a list of what teams should be looking for players at that position.
(EDIT: when I put out this list, Cousins had not been tagged. Since his tagging, that should bump everybody up and end the top 5 with Geno Smith.)
Free Agent QBs 2017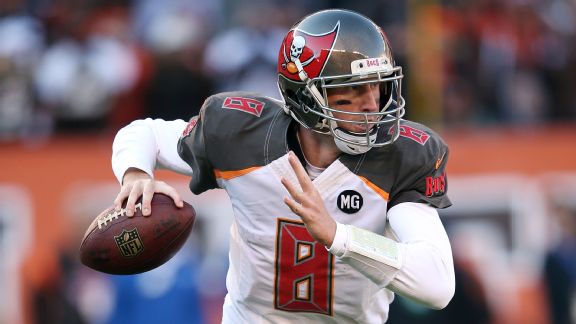 5. Mike Glennon
Glennon was drafted in the third round of the 2013 NFL Draft out of NC State. He was brought in to compete with starting QB Josh Freeman, and by week four, he was named the starting QB. He would bring a not-very talented team to a 4-9 record while 2600+ yards, 19 touchdowns, and 9 interceptions.
During his second season, he was benched in favor of veteran QB Josh McCown. Glennon would come in after McCown suffered an injury and started five total games in 2014. The 2-14 Buccaneers were 1-4 under Glennon, as he finished with 1400+ yards, 10 touchdowns, and 6 interceptions.
In 2015, Tampa Bay drafted Jameis Winston, and Glennon became an afterthought. Teams apparently offered low-round draft picks for Glennon, but the Bucs liked him as an insurance option over Ryan Griffin.
At 27 years old, Mike Glennon still has the ability to compete to be a starter in this league. He won't be a guy who will blow the roof of, but he can hold over a team until they draft a guy they consider to be a "franchise" QB.
*Not really a lot of Mike Glennon highlights, so here's him leading a final drive to win against the Steelers.

4. Josh McCown
McCown is obviously a guy who has been around the league at this point. He was drafted in the third round of the 2002 NFL draft out of Sam Houston St. He was never really expected to the guy, but his number was eventually called in his second season replacing QB Jeff Blake.
Now, what feels like a million years later, McCown has been on seven teams in his 14-year career and will likely be looking for another opportunity to collect the paycheck. He's never been an extremely successful QB, but teams keep giving him the opportunity to be the starter, most recently starting with the Cleveland Browns.
I don't expect him to get another opportunity to be a starter, but he could be a solid backup for a team that needs an experienced option. I could also see him being another guy who helps bridge the gap for a team during a year where the QB draft class is less than exceptional.
*Apologies for the music on this. Highlights of McCown from last season.
3. EJ Manuel
It was surprise to many when Manuel was first QB taken in 2013 NFL Draft when the Bills took him with the 16th overall pick. Manuel had a decent showing at Florida St., capping off his collegiate career with an ACC Championship victory over Georgia Tech in a senior season which included him throwing for 3,300+ yards, 23 touchdowns, and 10 interceptions.
Manuel started his first five games before suffering a torn LCL that would cause him to miss the next five weeks. He finished his season 4-6, while the Bills finished at 6-10 for the third straight season, but there was hope for the Bills yet.
His sophomore season in the NFL didn't go nearly as well, as he was benched after a week four loss against the Texans. He wouldn't get another start for the remainder of the season as Kyle Orton would show some promise in the role, and EJ would finish with a 2-2 record. That was really the last time he had the attention of the coaching staff, because Rex Ryan came in and brought in Tyrod Taylor as the new starter.
Manuel has talent and wants to be a starter in the league, and that clearly wasn't going to happen in Buffalo once they signed Taylor to a 5-year $90 million deal last season. He still has a pretty decent arm and could go in and compete for a starting job. As is typical with the free agent QB market, there aren't a lot of guys who will be definite starters, so Manuel falls in the same category as "bridge" guy.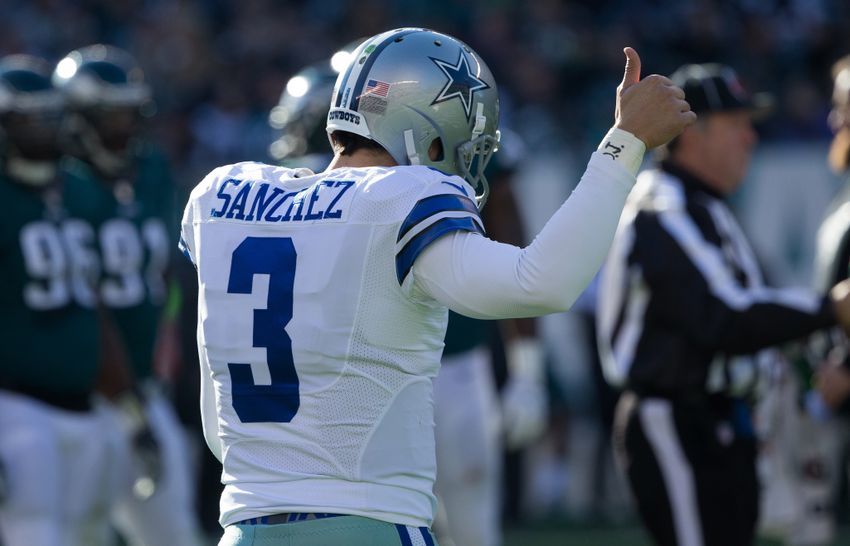 2. Mark Sanchez
Sanchez may have the most up-and-down career of anyone on this list. He was the fifth overall pick out of USC in the 2009 NFL Draft by the New York Jets, and since has jumped around to the Philadelphia Eagles and Dallas Cowboys. In his first two seasons, Sanchez led the Jets on playoff runs that resulted in two losses in the AFC Championship Game. Since he left New York, the Jets have not made it back to he playoffs.
This past season he was the third-string QB in Dallas, and that may be the lowest point of his career. In the two games he appeared in, he threw two interceptions and zero touchdowns.
He's been an average QB his entire career, having a QB record that is two games over .500 and having a TD-INT ratio that is exactly .500. As he showed in his first season in Philly, he still has something there. He can be a guy who leads you to a record anywhere between 4-8 and 7-9 but nothing more than that. His inconsistency is what makes him tough to gauge for teams. Any teams looking for yet another guy to hold them over for a season or two could look at Sanchez.
1. Kirk Cousins
Every NFL fan was shocked when the Redskins drafted Cousins in the fourth round of the 2012 NFL Draft out of Michigan St, as they had taken Robert Griffin III with the second overall pick. It was apparent pretty quickly that they would need Cousins, because Griffin was shown to be injury prone. In his first three seasons as a backup to RG3, Cousins would start nine games and finish with a 2-7 record.
In 2015, Cousins was named the full-time starter and put up 4,100+ yards, 29 touchdowns, and 11 interceptions. He led the Redskins to a 9-7 record, which was good enough to win the NFC East. They lost in the Wild Card Game to the Packers.
His success earned him a franchise tag for a fifth season in Washington, and he put up a season that mirrored 2015. He would throw for nearly 5,000 yards, 25 touchdowns, and 12 interceptions. Cousins' season would earn him a Pro-Bowl nod, but Washington's record would see a (half-game) drop-off to 8-7-1.
Of all the QBs in the free agent class, Cousins absolutely has the most value. He is in entering the prime of his career right now as a top-12 QB in the league and could obviously move up. He has the arm strength, but his problem has been mental mistakes. He reminds me of a Joe Flacco or Ryan Tannehill type. Cousins can be a solid player for his career but probably isn't a top-5 level QB. If he finds himself in the right situation, he should be competing for a playoff appearance next season.
Of course, the biggest question is whether or not the Redskins would apply the tag on Cousins again. They will have until March 1 to do so.
What teams should be looking at QBs?
The wasteland in the NFL is filled with teams that don't have a solid QB, whether that be a guy who can compete, a franchise guy, aspiring young talent, or a bridge guy. There are a few teams in that spot right now.
Cleveland is perpetually looking for a QB. They need so much more than that, but that is the first step. With all the money they have, they should go out and build up their roster and find a QB to compete with. That could be a guy like Cousins, Jimmy Garoppolo, or a rookie.
If anybody could make Colin Kaepernick work, I thought it would be Chip Kelly. That didn't happen, and now they are both likely out in San Francisco. Since the departure of Jim Harbaugh, the 49ers have been an absolute joke. They brought in John Lynch as GM and Kyle Shanahan as HC, so they should be looking to start over. A quick version of that includes bringing in Cousins, who Shanahan coached in Washington, or Garoppolo, who Shanahan reportedly wanted to draft in Cleveland. I think it is better for the franchise to take a long look at completely retool, as almost all of their impact players have departed over the last few seasons.
Houston made a huge mistake dropping $72 million in the hands of Brock Osweiler. He couldn't beat out the corpse of Peyton Manning in his last season in Denver, I don't know what they saw in him that allowed them to do that. They probably won't sign anybody this season because of the huge cap hit from Osweiler, but I wouldn't be surprised if they drafted a guy.
The Jets could have been a QB away from making the playoffs last season, but their entire team decided to disappoint at the same time. They are likely moving on from both Geno Smith and Ryan Fitzpatrick, but they have two young QBs in Christian Hackenberg and Bryce Petty who are ready to battle it out. New York should look to bring in a veteran like McCown to coach these young guys and push them to be better.
Chicago has been dealing with reports of Jay Cutler's potential retirement. That may be a good thing for the Bears, finally a full overhaul. They should look to bring in a young QB or a bridge guy, so I wouldn't be surprised if they went calling someone like EJ Manuel or re-signing Matt Barkley and allowing him to start until they find the next guy.
There have been rumblings of Buffalo moving on from Tyrod Taylor, and if they do that they could be looking for someone to step in right away. They could be in on Cousins, if the 'Skins let him hit the market.
Arizona is another team who should start looking at the QB market. Carson Palmer said he will be back this season, but he was the problem last year. They should want to capitalize on the last seasons with Larry Fitzgerald and while their core defensive players are still under contract. They likely won't be in on a big name but could draft someone or sign a veteran backup if they aren't comfortable with Drew Stanton.
(If you liked or disliked this list, leave a comment down below. Let me know who you think should be the top QBs in this free agent market.)
Comments
comments