We're back. Continuing with our list of top 5 free agents at every position. I have gone through QBs and RBs, so now we look at the WR class. This is an interesting class this year. I really think we could see a lot of guys teaming up to build strong WR cores.
TOP 5 FREE AGENT WRs 2017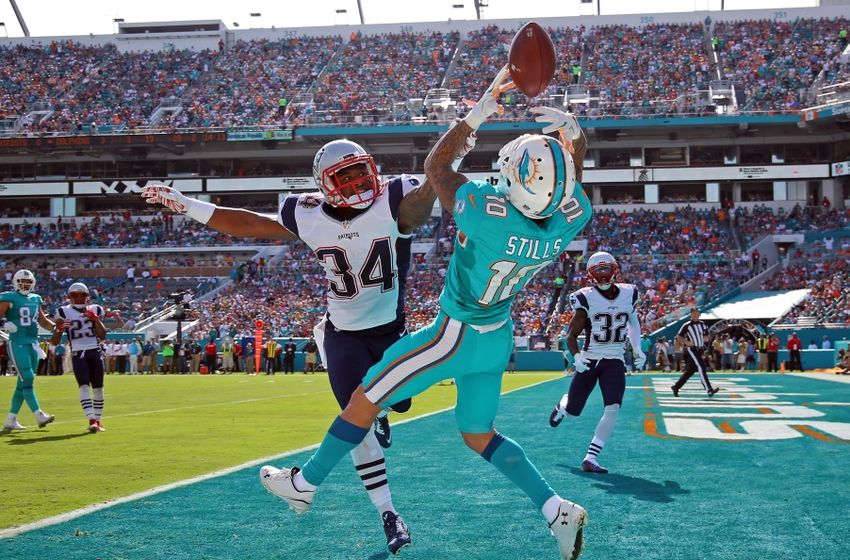 5. Kenny Stills
Stills was selected by the New Orleans Saints in the fifth round of the 2013 NFL draft out of Oklahoma. In his first two years, Stills put up pretty solid number two receiver numbers, (786 yards and four touchdowns per season). He battled for targets with veteran Marques Colston and one of the best TE in the league in Jimmy Graham. He also had a problem running the "route tree", while he made a name for himself a speed "go-route" receiver.
In the off-season heading into the 2015 season, Stills was traded to the Miami Dolphins in exchange for LB Dannell Ellerbe and a third round draft pick (used to draft CB P.J. Williams). He was now the third or fourth option in Miami, fighting for reps with Jarvis Landry, Rishard Matthews, and DeVante Parker, and because of that, his numbers dipped.
In 2016, with Matthews gone to Tennessee, Stills staked his claim as the number two WR. He still split reps with Parker for the number two spot, but he was much more productive, hauling in 42 receptions for over 700 yards and a career high nine touchdowns. His speed will continue to allow him a spot in the NFL, so I wouldn't be surprised if he gets brought in to a team like Philadelphia that need a guy to take the top off of a defense. Also, Doug Pederson was mentored by Andy Reid, who used DeSean Jackson in the same way.
---
4. Terrelle Pryor
Terrelle Pryor is another guy who has had an interesting story. He was drafted by the Oakland Raiders in the third round of the 2011 NFL supplemental draft out of Ohio St. Pryor had been a successful dual threat QB in college, but a situation involving Pryor receiving money for autographs resulted in an athletic ban. This forced him into the supplemental draft rather than playing his senior season with the Buckeyes.
Pryor spent three seasons in Oakland, where he made ten starts, nine of which were in 2013. He had an overall record of 3-7 in Oakland, threw for 1953 yards with nine touchdowns and 12 interceptions. He also ran the ball for 627 yards and three touchdowns, including a 93-yard TD run that stands as the longest run by a QB in NFL history. It was clear that he wasn't going to make it as a successful QB in today's league.
He spent some time bouncing around after his time in Oakland. He was traded to Seattle for a seventh round pick (used to pick SS Jonathan Dowling). The Seahawks released prior before the season, and he wasn't on a team again until January of 2015 when he was signed by Kansas City. His time was short-lived in KC, as he was cut in May. Five days later, he would sign with the Bengals, but again, only last two months. The time spent moving around and told Pryor it was time to switch positions, and then he became a WR.
He was picked up by the Browns in June of 2015, but was cut in September. By December, Cleveland needed an emergency QB when Josh McCown went down and Pryor was signed. As an RFA, he was tendered. It was clear they saw something in him. 2016 was his break out season. He recorded over 1,000 yards and four touchdowns, even though he was hampered by an injury nearly all season.
Pryor is so athletic that I believe he can really do anything. At 6'6″ he has the perfect frame to be a talented WR. Not to mention he runs a 40 in under 4.4 seconds. It is mainly unknown what Pryor can do, but he succeeded in the number one WR in Cleveland, so the sky is the limit, right? I think he'll probably receive an offer for a few million on a "prove it" deal, and I can also see him going back to the Browns, because they gave him an opportunity.
---

3. DeSean Jackson
Jackson was drafted by the Philadelphia Eagles in the second round of the 2008 NFL Draft out of Cal. He was brought in and immediately became the team's number one option. The combination of Jackson and Jeremy Maclin the following season succeeded right away, add in one of the best RBs in LeSean McCoy, and you have a tremendous set of skill players.
In his six seasons in Philadelphia, Jackson averaged over 1,000 yards and nearly eight touchdowns every season. He was selected to the Pro-Bowl three times while with the Eagles and was known as the fastest receiver in the league. On top of that, he was one of the best punt returners in the game. After the best season of his career, he was released.
He signed a three-year deal with Redskins, forcing the Eagles to play him twice a year. In Washington, Jackson picked up right where he left off, continuing to rack up the 1,000 yard seasons.
His reputation as one of the fastest WR in the league still stands, and he is widely considered the best "take off the top" receiver in the league. Jackson will be 31 this season, but he has shown zero signs of slowing down. As long as he has that combination of great hands and speed he will continue putting up numbers. Many have even speculated a potential return to Philadelphia now that Chip Kelly is gone.
---
2. Brandon Marshall
Marshall was selected by the Denver Broncos in the fourth round of the 2006 NFL Draft out of UCF. In his rookie season, Marshall slotted in as the third WR behind Javon Walker and Rod Smith. He would finish with numbers that were not very impressive (300+ yards and 2 TDs). The next three seasons, he would assert his dominance and make his name known across the league, putting up over 1,100 yards and six touchdowns each year.
In 2010, Broncos Head Coach Josh McDaniels traded Marshall to the Miami Dolphins for a 2010 second round pick (traded again for the #25 pick to draft QB Tim Tebow) and 2011 second round pick (drafted OL Orlando Franklin). McDaniels didn't get along with Marshall, something Marshall would become known for. After the trade, he signed a four-year extension worth $47.5 million. He only played out two years of that contract, totaling 1,200+ yards and nine touchdowns, before being traded again.
This time, Marshall was traded to the Chicago Bears before the 2012-13 NFL season. The return was a 2012 third-round pick (traded again and picks used to draft TE Michael Egnew and WR B.J. Cunningham) and a 2013 third-round pick (traded again and picks used to draft TE Dion Sims and CB Will Davis). The 28-year old WR was reunited with Jay Cutler, his QB in Denver, and the pair gave Marshall a career year. He was named to his third Pro-Bowl and his only First-Team All-Pro team.
He saw a lot of success with Chicago and worked well with the other threats in the passing game in WR Alshon Jeffery and TE Martellus Bennett. His numbers earned him another contract extension for four-years and worth $39.3 million. Off the field, his name was continuously brought up in drama. Eventually, it became too much. Less than a year after receiving an extension, Marshall was traded for the third time in his career.
Marshall landed with the New York Jets. He was traded along with a 2015 seventh-round pick (traded again for RB Zac Stacy) for a 2015 fifth-round pick (drafted FS Adrian Amos). Once again, Marshall found himself in a situation with a "middle-of-the-pack" QB in Ryan Fitzpatrick and a strong second option in Eric Decker. The two played well off of each other, and Marshall put up the best season of his career (1,500+ yards and a league leading 14 TDs). The following season was not as generous, as Decker was out for the season, and Fitzpatrick regressed hard. To save money and focus towards the future, Marshall was cut by the Jets.
33-year old Brandon Marshall will still be valuable in this league. He is tall, physical, and fast. He has the three keys to being a top WR in the NFL. Last season, he experienced his lowest catch percentage of his career (46.1%) due in part to the lack of talented QBs in the Jets' system. I expect Marshall to get a solid offer, but he all of the stats in the world. He has said he wants to compete but doesn't want to be a rental or "hired-gun". We could see him get a three-year contract from a team that's on the cusp of greatness. I would like to see him in Oakland.
---

1. Alshon Jeffery
Jeffery was drafted by the Chicago Bears in the second round of the 2012 NFL Draft out of South Carolina. He was made the second option behind All-Pro WR Brandon Marshall. In his rookie season, he made an impact but was sidelined with a broken hand that required him to miss six games.
Over the next two seasons, Jeffery would put up over 1,000 yards and would be selected to the Pro-Bowl in 2013. Brandon Marshall left the team in 2015 to join the New York Jets and left Alshon as the number one option in Chicago. He was on pace for the best season of his career, but multiple leg injuries caused him to miss seven games. The Bears would use the franchise tag to keep Jeffery in Chicago. Another season of injuries (and having backup QBs) hurt his production and again caused him to miss four games.
Alshon is really everything you want in a WR physically. He is 6'4″ and ran a 4.58 40-yard dash. He has the ability to high point the ball and can run nearly every route on the tree. The Bears have refused to franchise tag him again, and he will be the number one option out there. Expect any team with significant money to go after him. He won't draw the same number as Antonio Brown's contract (4-year $68 million), but he could certainly get $14 million a year instead of $18 million. If I had to guess, I would also say the injury history will also hurt him in negotiations, but make no mistake, he is the best talent available, and he IS talented.
---
Team that should be looking for WR:
Most teams should be looking for WR help with the position usually taking up five to six roster spots per franchise. Some teams need a guy to be the number one option, while some teams will need depth.
Philadelphia is the team that comes to my first for me. Jordan Matthews is a successful number two or three option, but they need a game-changer. Put Jeffery in that system with a young, talented QB like Carson Wentz, and they could make a jump.
If Jeffery does not re-sign with Chicago, they will absolutely need some help. They will be stuck with Eddie Royal as their number one option. Any of these guys could be quality fits for the Bears. It is uncertain which direction the franchise is headed in, but they need to make up their minds and fast.
The LA Rams, like the Eagles need to find help for a young QB. Their number one option last year in Kenny Britt is hitting the free agent market this season as well, and he may be gone. If you want to help your quarterback fast and make the adjustment to the NFL that much easier, go out and find a top-level WR.
Washington is another team that should be looking for help. Their top two options in DeSean Jackson and Pierre Garcon are hitting free agency, and it looks like they both are walking away. This leaves them with Jamison Crowder as the number one WR. That is not a great place to be in. They should be looking at a number one QB option to put with TE Jordan Reed and QB Kirk Cousins. Let them go to work, but they need help to get there.
Comments
comments