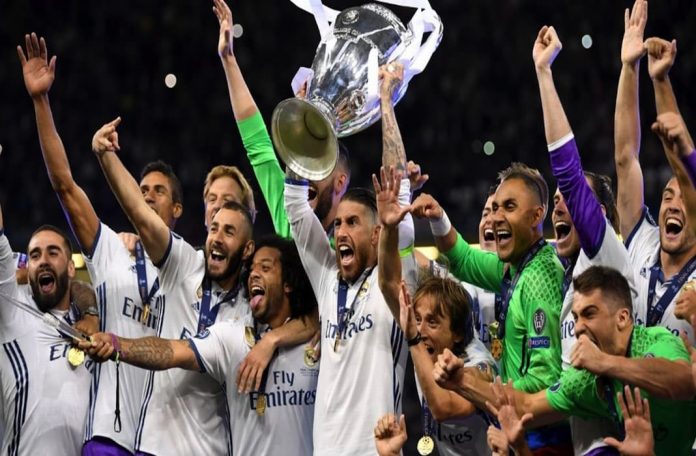 2017 was an incredible year for soccer from start to finish. From last minute winners, heroic performances to qualify to the World Cup and even a league winning hattrick, 2017 was truly a memorable year. Here is my top
10. Tim Cahill Goal vs Syria
Australia's iconic striker struck in extra time against Syria in Asia's 4th round of World Cup qualifiers. After both Syria and Australia finished third in their respective groups, they faced off for a chance to play CONCACAF's 4th place team in the cross-continental World Cup playoff. Both matches had ended 1-1 and proceeded to go to extra time. It was in the 108th minute where Tim Cahill's header beat Syria's keeper thus breaking a whole nation's heart. Australia would go on to play and defeat Honduras in the playoff and make their fourth straight World Cup
9. Monaco Upsets City
Pep Guardiola's Manchester City were knocked out in the Round 16 of the Champions League to an underdog Monaco side after an entertaining two legs. Despite losing the first leg 5-3, Monaco were able to spark a 3-1 victory at home and advanced on away goals. Teenage sensation Kylian M'bappe struck in the first 10 minutes of the game. Fabinho's goal had the hosts up 2-0 at half with the a golden chance to advance. Leroy Sane would temporarily halt Monaco's dreams but Bakayoko sealed the 3-1 minutes later and sent the Guardiola's side packing early.
8. Dirk Kuyt's Hat Trick to Win the League
36-year-old Dirk Kuyt scored a hat trick in the last game of the season to help Feyenrood win their first league title in 18 years. Feyenrood needed a victory to win the title and the ex-Liverpool man took care of business as they won 3-1. Kuyt would eventually retire at the end of the season. What a way to retire…
 7. Messi Hat Trick vs Ecuador
Argentina had flirted with the idea of missing out on the World Cup after a disasterous World Cup Qualifiers. A tie against Peru at home meant that Argentina were desperate for a win against Ecuador on the road to qualify. It then became the "Lionel Messi Show" when the Barcelona star scored a hat trick to send his country to the World Cup. A brilliant game by the great Lionel who put the nation on his back and helped them forget the disasterous campaign. I don't put this higher on the list simply because it was practically an obligation for Argentina to qualify. As great as Messi was that game, it doesn't take away from the fact that Argentina had been awful for most of those 18 games.
6. Italy, Chile and USA All Eliminated In Thrilling Fashion
We saw some of the biggest names in World football fail to qualify for the upcoming World Cup. Italy failed to score against Sweeden in 180 minutes despite having Insigne on the bench. This marked Buffon's last apperance with the Azzurri leaving him in tears of dissapointment (thus making every football fan around the World tear up as well). Chile won just one out of their last four qualifying games including a 3-0 whopping against an already qualified Brazil. The back-to-back Copa America champions failed to reach their first World Cup since 2006. That same day, the U.S couldn't even get a tie in Trinidad and Tobago. U.S's loss along with Honduras and Panama's heroics meant that the United States wouldn't be at a World Cup for the first time since 1986.
5. Messi's Last Minute Winner Against Real Madrid
Lionel Messi struck again in the BernaLEO (no typo) this time in the 92nd minute. The scoreline was 2-2 but a tie was not useful for Barcelona who were desperetly trying to cut Real Madrid's lead at the top of the table. A beautiful run by Sergi Roberto initiated the play in which Jordi Alba played a low cross on the ground for an incoming Messi who slotted it near post past Keylor Navas. Of course what's an iconic goal without an iconic celebration? Messi's celebration has since been imitated by some of his biggest fans worldwide.
4. Panama's Late World Cup Clincher
Roman Torres' 87th minute blast gave Panama the 2-1 victory over Costa Rica in the last game of the season to send Panama to their first ever World Cup. The same Panama who suffered a last minute defeat to the United States in the last game of the qualifiers that saw them miss out on the World Cup. The Central Americans declared the following day a national holiday as the entire country stayed up all night celebrating.
3. Cristiano's Incredible Champions League Run
Real Madrid's Cristiano Ronaldo had one of his most impressive goalscoring run of his career. He became the synonym of "big time scorer" when his five goals against Bayern, hat trick against Atletico in the semi finals and his brace in the final against Juve helped Real Madrid win back to back Champions Leagues. A total of 10 goals in 5 games against some of Europe's best teams. His increidble streak also helped him carve his name prematurely on the 2017 Ballon D'or.
2. Remontada
PSG's incredible 4-0 victory against Barcelona in the first leg of the Champions League Round of 16 was shortlived. No team had ever came back from such result and it would require a complete meltdown from PSG to make history. Even Cavani's goal to go up 5-3 on aggregate was not enough. Three goals in the last 10 minutes sent Camp Nou in a state of euphoria. Possibly Neymar's best game with Barcelona was sentenced with a fantastic last minute goal by Sergi Roberto. Despite this being one of the greatest games I've ever seen, I cannot put this at #1 simply because it would lead to nothing. Barcelona would be knocked out by Juve in the next round thus ending their title hopes.
1. Mo Salah's Stoppage Time World Cup Clincher
2017 has been Mo Salah's year. Dominating in England while becoming the transfer of the season and the man responsible for sending Egypt to their first World Cup since 1990. His stoppage time penalty ended Egypt's World Cup absences. The video speaks for itself…
Did I miss one? Should I have ranked one higher? Let me know! Twitter: @MP_persources IG:@mp_persources