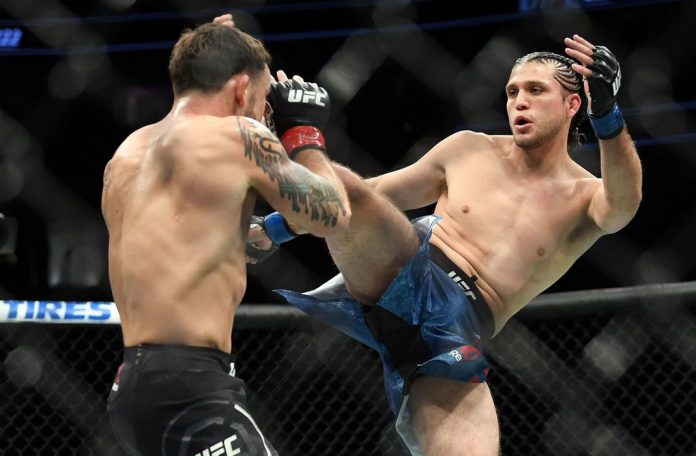 Brian "T-City" Ortega stamped himself as the #1 featherweight in the world Saturday night at UFC 222. Ortega went into Saturday a perfect 13-0 riding a with five straight UFC wins and a record-setting run of third-round submissions. His last fight against Cub Swanson in December put him on the map after he finished him early in the second-round by hanging onto his until Swanson tapped. That gave him the recognition to be the one the UFC came to when Frankie "The Answer" Edgar needed an opponent for 222 after Max Holloway dropped out due to injury. Ortega jumped at the opportunity to fight the legend and left the world watching in shock.
T-City is a Mexican-American fighter from San Pedro, California. His light skin and blue eyes may be deceiving, but he's a Mexican warrior. He grew up in section-8 housing in San Pedro, which is an upbringing not many make it out of and find the type of success he's found. He was lucky enough to find the Gracie jiu-jitsu academy in Torrance, California. The gym was founded by Rorion Gracie, the son of grandmaster Hélio, and one of the founders of the UFC putting his younger brother Royce in the competition to show Gracie Jiu-Jitsu off to the world. Now the gym is ran by two sons of Rorion, Rener and Ryron Gracie. Rener is one of the greatest jiu-jitsu instructors in the world and found a 13-year old troubled boy by the name of Brian who needed guidance.
Rener became a big brother to Brian Ortega and trained him in jiu-jitsu and continues to be his mentor to this day. He quickly saw something special in Brian as did Brian's striking coach James Luhrsen who approached him on the street to tell him he was wasting his life hanging with the wrong crowd. Brian found out James had the same upbringing he did and made it out.
"He was the first person I met that made it out, Rener and James are the perfect ying and yang." – Brian Ortega
T-City became a Gracie jiu-jitsu black belt under Rener and is basically as close to a Gracie as you can be. With the striking he got on top of it from Luhrsen, his coaches were set and the path to a successful future was put before him. He lived up to all the hype as the 13-year old boy all the newcomers had to roll with. Now he's compiled an undefeated record of 14-0 and is the #1 ranked featherweight in the world and getting a title shot against Max Holloway.
To get that title-shot he had to get through the legend and one of the all-time pound-for-pound greats in Frankie Edgar. Edgar is a non-stop compact ball of grit that'd never been finished in any way throughout his championship career. T-City is a fighter who relies on finishing opponents, so Frankie posed a lot of challenges. If you told me Ortega finished Frankie I would've guessed it was submission. I would've been wrong. T-City absolutely shocked the MMA world by taking Edgar off his feet with an uppercut and got the KO victory. It was an incredible performance by Ortega who's quickly rising the ranks as a fan favorite after this victory.
His title-shot will be coming in July against UFC Featherweight Max Holloway. There's no set date, but they're aiming for UFC 226 during International Fight Week. I know the whole Ortega team would love to fight Max in his home state of Hawaii, as would Max, but my bet is it will be in Las Vegas.