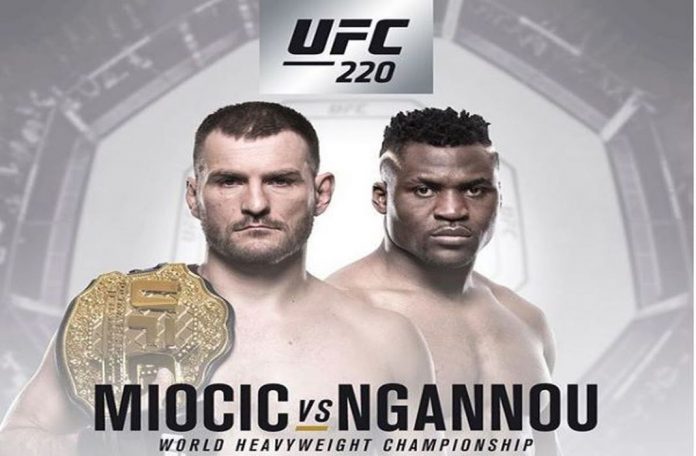 UFC Heavyweight champion Stipe Miocic will defend his title in Boston on January 20, 2018 at UFC 220. He will be defending his belt against number one contender Francis "The Predator" Ngannou. Everyone saw Ngannou take the head off of Alistair Overeem, earning him his title shot. These two monsters getting into the octagon across from each other makes for the greatest heavyweight fight in UFC history.
There have been many "slobber-knockers" in the heavyweight division over the years. Whenever two of the biggest men in the entire UFC are going to fight each other, it's always big news with massive anticipation. Stipe has been on an almost unprecedented tear of the division, knocking out opponents with lefts and rights on his way to becoming champion. He's one win away from possibly being undeniably the greatest heavyweight in UFC history. There's one man named Francis that hits like a Mack Truck standing in his way.
There are many different aspects that make this fight entertaining. Let's start with Stipe. He's looking to become the greatest heavyweight of all-time with a victory. Whoever the fighter was that was stepping in against Stipe, he would have still been considered the greatest with a win. But now, if he does it by beating the monster Ngannou, it will be undeniable. It will be the toughest test Stipe has ever faced, and possibly the biggest test any fighter in UFC history has ever faced.
The man is the true blue collar champion. He puts on a different belt most days, as he goes to the fire house in Cleveland where he's a fireman. He's the heavyweight champion of the world and is still humble enough to continue his day job saving lives. He's a fan favorite for a good reason. The man is a class act every time, and he'll always give an exciting fight. Seeing him knockout Ngannou might be the most exciting thing to ever happen inside the octagon. and I know that's all that's on his mind.
Francis Ngannou is quickly becoming one of the most exciting fighters in the sport. He's turned into can't miss television. His knockout against Overeem last weekend was scary. We thought Alistair may be dead. The excitement he's gathering on his way to Boston is huge and well-deserved. He moved into the UFC training center in Las Vegas, so he literally lives in the gym. The man is a physical specimen that looks like a Marvel character. His superpower would be knocking heads off with a single punch. The moment that Stipe and Ngannou are across from one another in the octagon will be one of the most exciting moments I will ever feel as a fight fan.
It's the GOAT of heavyweight fights, and for fans and Boston locals such as myself we're in for one oft biggest treats of the year. Tickets go on sale Friday December 20. Get your money in order, and get ready to dish out a pretty penny.